RIP F. Gwynplaine MacIntyre 1948-2010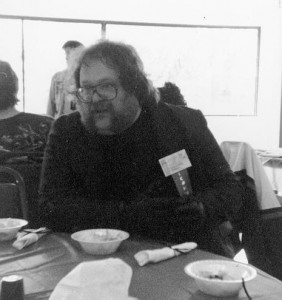 It is with heavy heart that we report the loss of SFWA member F. Gwynplaine MacIntyre.  Froggy, as he was often known, wrote short fiction for magazines such as Weird Tales Analog, Asimov's Science Fiction, Amazing Stories, Absolute Magnitude and Interzone. While primarily known as a short-fiction writer, he also had a wide-ranging career as a novelist, though much of that was as a ghost writer, including at least one Tom Swift novel, The DNA Disaster.
His own novel, The Woman Between the Worlds is a science-fiction that Library Journal called, "Wildly comic, darkly horrific, and surprisingly bittersweet, this quirky novel has a place in most sf and fantasy collections." It is set in 1898 in London and is narrated by a tattoo artist with a highly unusual client — an invisible woman who wants a full-body tattoo.
Froggy had been troubled of late with depression and took his own life on Friday. He will be deeply missed by his friends.