Quick Updates for 2010-08-05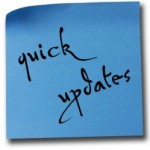 Member News
SFWA member Mary Robinette Kowal releases the book trailer for her debut novel SHADES OF MILK AND HONEY.
SFWA member Jeannie Holmes will do an interview with WKRG (Channel 5) in Mobile on 8/12 during their Mark Your Calendar segment at 8:30am.
A video interview with SFWA member Laura Anne Gilman on tordot.com.
In search of SFWA members who've raised kids while writing. This is for an upcoming article. Email webeditor@sfwa.org if interested.
Real nanotech. Real medicine. And zombies. SFWA member Edward M. Lerner's latest thriller is now out in paperback.
Congratulations to SFWA member Brad Beaulieu who has a 3 book deal for his debut novel THE WINDS OF KHALAKOVO.
SFWA member Blake Charlton is reading at Borders in NYC Sat. Aug 7th, at 4pm.