Quick Updates for 2010-09-02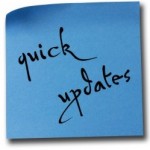 Member News
SFWA member Lou Antonelli signs contract for collection with Merry Blacksmith Press.
SFWA member Greg Bossert is delighted to be working with Weird Tales on their One-Minute Weird Tales flash-fiction videos.
Happy Launch Day to SFWA member M.K. Hobson and her debut novel THE NATIVE STAR.
Help needed: SFWA Overseas RD Sean Williams can't attend Worldcon due to health reasons. Need volunteers for SFWA suite.
SFWA member Mary Robinette Kowal has a short story SALT OF THE EARTH at Redstone SF today.
Industry News