Quick Updates for 2010-09-30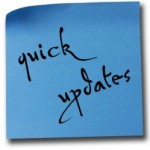 Member News
SFWA member Robert Silverberg has new fiction online with Lightspeed Magazine.
SFWA member Paul S. Kemp's collection, Ephemera, remains #1 at Drivethruhorror, which means the price stays $1.
SFWA Members Gwynne Garfinkle and Samantha Henderson are among the authors participating in a Strange Horizons 10th Anniversary Tea Party and Reading at Mystery and imagination Bookstore in Glendale Californa, Sunday 10/3 at 1:30PM.
Happy book release day to SFWA member Cherie Priest and DREADNOUGHT.
SFWA member John Joseph Adams makes last call for stories & recs for his dystopian reprint anthology Brave New Worlds.
SFWA member Lynn Flewelling has made her Glimpses e-book available at B&N.
Resources
An interview with SFWA president John Scalzi is up at Lightspeed Magazine.
Guest post: Of Alternate Nineteenth Centuries: The Enduring Appeal.
The Vilcek Foundation's newsletter focuses on immigrant artists & writers who transformed comics. Good reading.