Quick Updates for 2010-10-03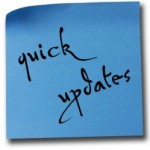 Member News
Think they're Machiavellian? Naive humans! SFWA member Edward M. Lerner announces InterstellarNet: New Order.
Sara Megibow is looking for one more conference in 2011. She'd like to speak/present/hear pitches. Send her your thoughts?
SFWA qualifyng market Strange Horizons is having a fundraiser. Great prizes!
Two days left to win a signed ARC of Beautiful Darkness by SFWA members Margaret Stohl & Kami Garcia at Page Turners Blog.
SFWA member Ellen Datlow is in Portland for the Lovecraft festival. Receptions and readings.
SFWA member David Brin is now on twitter.
Lou Antonelli delivers reprint collection to Merry Blacksmith Press.
Resources
Reference: This online manual for Western journalists reporting on Islam will also be useful for fiction writers.