Quick Updates for 2010-10-07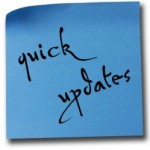 Member News
SFWA member Kalayna Price's new urban fantasy GRAVE WITCH is out now.
SFWA member Shiloh Walker has a Contest & Giveaway for The First Book of Grimm. Details here.
SFWA member Marjorie Liu will be at NYCC. Two panels (novels, X-Men), two signings, both on Friday.
Interview with SFWA member Dan Wells about his latest book, Mr. Monster at Apex Book Company.
SFWA member Tom Crosshill's "Express to Paris by Dragon First Class" is at Intergalactic Medicine Show. Click the link in left menu for a free audio version of the story.
Interview with editor & SFWA member John Joseph Adams at Redstone SF.
SFWA member David Levine's story "Floaters" is published on Drabblecast.
Welcome to SFWA's newest Associate member Tim Myers with a sale to Realms of Fantasy (April, 1999) http://www.timmyersstorysong.com/.
SFWA member Paul Jessup has flash fiction up at Innsmouth Free Press.
Original fiction from SFWA members Harry Connolly and Stacia Kane on Suvudu.com.
SFWA members Sarah Beth Durst and Cinda Williams Chima will be at Books of Wonder today (10/7) at 6pm.
SFWA member Stephanie Draven discusses The Seven Deadly Sins of Paranormal Romance on the Dirty Sexy Books blog.
Win WILD CARDS 1 – with new stories by SFWA members David Levine, Carrie Vaughn, and Michael Cassutt – from Pat's Fantasy Hotlist!
SFWA members Kevin J. Anderson, Sherrilyn Kenyon, Brandon Sanderson teach a new SUPERSTARS WRITING SEMINAR in Salt Lake City, January 13-15.
University of Toronto is teaching SFWA member Robert J. Sawyer's WAKE in a science-fiction course this fall.
A hearty thank you to Marc Steuben who's been moderating the Quick Updates at sfwa.org for the past year. The new moderator is Keffy R.M. Kehrli.
Industry News