Quick Updates for 2010-10-21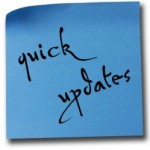 Member News
SFWA member Cory Doctorow talks about how the Google Book Search will never have an effective competitor in his post on BoingBoing.
Happy Book release day to SFWA member Laura Anne Gilman and her novel WEIGHT OF STONE.
SFWA member Jackie Kessler has a Big Idea at John Scalzi's website: here.
SFWA Member Douglas Hulick's debut novel, AMONG THIEVES, and two sequels, have sold rights in U.K./Australia and Germany.
SFWA member Harry Connolly posted a short comedic video about writing and procrastination. Who hasn't done this?
Blog post by SFWA Member Deanna Hoak: China Miéville wants you to know that he does not have a Facebook account .
Industry News