Quick Updates for 2010-10-25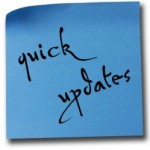 Member News
Interview with SFWA member Edward Willett on SciFiGuy.ca.
Feature in the Regina Leader Post newspaper about SFWA member Edward Willett's new YA fantasy, SONG OF THE SWORD.
Spiderwick Chronicles, based on SFWA member Holly Black's novel, is airing on ABC Family Thursday, and Saturday.
Congratulations to SFWA member Angel Leigh McCoy who sold a Josephine Winterdove tale to the anthology "Steampunk Chaos".