Quick Updates for 2010-10-27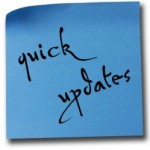 Member News
SFWA Member Eljay Daly's story "Bitterdark" is live at Fantasy Magazine this week.
Congratulations to SFWA member Gail Carriger who has been nominated for a Bookie Award.
Happy book release day to SFWA member Yasmine Galenorn and her novel HARVEST HUNTING, book 8 in her Otherworld Series.
SFWA member Jennifer Brozek sold an anthology, HUMAN FOR A DAY, to DAW.
Happy book release day to Maria Lima and BLOOD HEAT. She has a virtual Event on Facebook with a chance to win.
SFWA member Frank Catalano has an essay on science destroying his childhood while reinforcing his love of science.
Happy release day to SFWA member Aliette de Bodard and her debut novel SERVANT OF THE UNDERWORLD.
Industry News
A change in editors at FANTASY MAGAZINE. It will now be edited by SFWA member John Joseph Adams.
Texas Supreme Court cites Mr.Spock in constitutional ruling. See footnote 21.