Quick Updates for 2010-12-11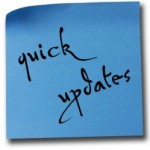 Member News
Welcome to SFWA's newest Associate member Laurie Tom, with a sale to Writers of the Future XXVI.
Welcome to SFWA's newest Active member Stephen Blackmoore, author of CITY OF THE LOST (DAW, 2011).
Welcome to SFWA's newest Active member Anne Nesbet, author of THE CABINET OF EARTHS (HarperCollins/2012).
SFWA member David Levine sold "Citizen-Astronaut," which won 2nd Prize in the 2010 Jim Baen Memorial Writing Contest, to Analog.
SFWA member N. K. Jemisin was on the December 9th episode of Hour of the Wolf (WBAI 99.5 FM New York). You can listen here for the next 11 days.
SFWA member Seanan McGuire sold 2 more October Daye books to DAW, titles ASHES OF HONOR and THE CHIMES AT MIDNIGHT.
SFWA member Catherynne Valente will be guest of honor at CONTINUUM 2011 in Melbourne, Australia.
SFWA member Ted Kosmotka has a new story, "In-Fall" at Lightspeed magazine.
SFWA member Allan Cole presents BAD BOY BOBBY BLAKE: PART DEUX… New Hollywood Misadventure at his website.
Resources
Excellent post by SFWA member Keffy R. M. Kehrli on the first impressions stories make to a slush reader on Shimmer's blog.