Quick Updates for 2010-12-13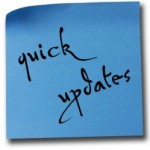 Member News
SFWA member Keffy R. M. Kehrli's story "Advertising at the End of the World" is this week's Escape Pod episode.
Welcome to SFWA's newest Active member Rhiannon Held, author of SILVER (Tor, 2012).
Norilana Books offers the parody NORTHANGER ABBEY AND DRAGONS by Jane Austen and SFWA member Vera Nazarian.
SFWA member Sir Terry Pratchett writes about learning he has Alzheimer's here.
Industry News
Odyssey Writing Workshop announces its 16th Summer Session here.