Quick Updates for 2010-12-15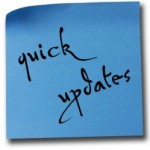 Member News
SFWA member Tony Pi's story "The Gold Silkworm", is up at Fantasy Magazine.
A Spanish reprint of SFWA member Eugie Foster's "Sinner, Baker, Fabulist, Priest; Red Mask, Black Mask, Gentleman, Beast" in November Issue of Cuasar.
Happy book release day to SFWA member Jon Armstrong and YARN. Read Chapter 1 on his site.
At inkpunks.com today, SFWA members Blake Charlton and Wendy Wagner talk about improving your spelling against all odds.
Welcome to SFWA's newest Associate member Sigrid Ellis. Read her qualifying story "No Return Address" at Strange Horizons.
Welcome to SFWA's newest Active member Ben Loory, author of STORIES FOR NIGHTTIME AND SOME FOR THE DAY (Penguin, 2011).
Industry News
After talks with publisher, SFWA has placed Dorchester Publishing on probation from 12/10/10 – 12/10/11. Details here.
Information about SFF.NET's hosting and routing woes is on their twitter feed: @sffnet.