Quick Updates for 2011-01-06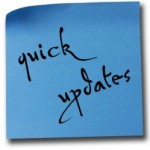 Member News
Welcome to SFWA's newest Affliate member Lia Keyes Co-editor, Flying Pen Press.
Welcome to SFWA's newest Active member Mari Ness. Read one of her qualifying stories at Fantasy Magazine.
Congratulations to SFWA member Jim Hines who sold his story "Epilogue" to Jennifer Brozek for the DAW anthology HUMAN FOR A DAY.
SFWA member David Levine sold short story "Into the Nth Dimension" to anthology HUMAN FOR A DAY.
Wonderful interview with SFWA member Michael Chabon about his "wrecked" novel FOUNTAIN CITY here.
SFWA member Yasmine Galenorn has a contest on her blog through noon tomorrow for 2 copies of HARVEST HUNTING.
Happy release day to SFWA member Stephanie Dray's historical fantasy LILY OF THE NILE: A NOVEL OF CLEOPATRA'S DAUGHTER.
Industry News
SFWA qualifying market Strange Horizons has raised their payrate to .07 per word. More information here.
SFWA member Ellen Datlow issues a call for Submissions for The Best Horror of the Year volume Four (2011).