Quick Updates for 2011-01-14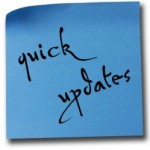 Member News
Congratulations to SFWA member Paolo Bacigalupi, whose YA novel SHIP BREAKER won the Printz Award.
Welcome to SFWA's newest Affiliate member, Laurie Mann, Worldcon Program Liaison for Renovation – World Science Fiction Convention 2011.
Welcome to SFWA's newest Associate member Patty Jansen. Read one of her qualifying stories at Grantville Gazette.
Welcome to SFWA's newest Active member Jenny Moss, author of SHADOW (Scholastic, 2010).
Part 1 of SFWA member Eugie Foster's story, "The Princes and the Golden Fish," is now out in the January issue of Cricket.
SFWA member Eugie Foster sold short story "Beneath the Silent Bell, the Autumn Sky Turns to Spring" to DAW anthology Human for a Day.
"Sympathy for Salieri" – SFWA member Lou Antonelli is interviewed by author Tracy Morris.
SFWA member Vonda N. McIntyre's novelette "Little Faces" is a Book View Cafe ebook.
Resources