In Memoriam: Brian Jacques (1939-2011)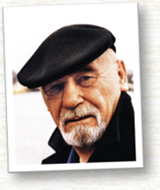 British author Brian Jacques (b.June 15, 1939) died on February 5, 2011 following emergency surgery for an aortic aneurysm. Jacques published his juvenile novel Redwall, about a collection of anthropomorphic mice, badgers, voles, and other creatures, in 1986. Jacques followed Redwall with an additional twenty volumes in the series, including The Rogue Crew, which is scheduled to be released later this year. The series was adapted into a popular animated series as well as an opera. In addition to the Redwall series, Jacques also wrote three volumes in his Flying Dutchman series, beginning in 2001. Jacques also published two collections of short stories and a couple of picture books.
Jacques grew up near the Liverpool docks and dropped out of school when he was fifteen to became a merchant seaman. Other careers, as a policeman and dockworker followed. In the 1960s, he formed a band in Liverpool with his brothers. Jacques's interest in writing started at a young age and when he was ten, he was caned by a teacher who couldn't believe that he could write the story he had turned in. He hosted a radio show about authorial concerns for BBC Radio Merseyside for more than 20 years.