Quick Updates for 2011-02-22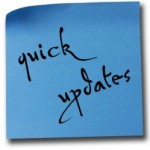 Member News
SFWA member Tobias Buckell was on the front cover of the Bluffton News last week.
SFWA member Keffy R. M. Kehrli's story "The Ghost of a Girl Who Never Lived" tied for third in the InterGalactic Awards.
SFWA member Jeffry Dwight's speculative poetry collection, PHANTAS, is available now from Curiosities.
SFWA member Blake Charlton's novelette "Endosymbiont" is on Escape Pod.
SFWA member Allan Cole asks How Many Agents Does It Take To Screw A Writer? New Hollywood MisAdventure: here.
SFWA member Catherynne Valente announces her candidacy for Eastern Regional Director of SFWA.
Industry News
The deadline for claiming the Google Books Settlement cash payment has been extended to 1 year after/if the settlement is approved.