Quick Updates for 2011-03-22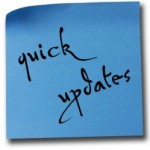 Member News
Night Shade Books is conducting an eBook Giveaway for SFWA member Stina Leicht's "Of Blood and Honey." More information here.
A new One Minute Weird Tale by David R Hughes, with video, audio, and tentacles by SFWA member Gregory Norman Bossert
New online ezine 4 Star Stories features stories by SFWA members Lou Antonelli and Bill Ledbetter, among others.
SFWA member Eugie Foster just sold her short story "Biba Jibun" to Apex Magazine.
Industry News