Clarion West to Honor
Paul Park, Connie Willis, and Gardner Dozois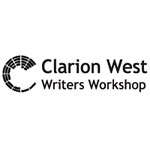 On June 24 at 8 p.m., Clarion West will open the Locus Awards Weekend with a party in honor of CW instructor Paul Park. The party will also celebrate Awards Toastmistress Connie Willis, SF Hall of Fame inductee Gardner Dozois, and other stars of the speculative fiction cosmos attending the Awards Weekend. Festivities will take place in the Seattle Center's Best Western Executive Inn, which is near the EMP, site of the SF Hall of Fame Induction Ceremony. Party attendance is open to all Locus Awards/SF Hall of Fame event ticketholders, as well as Clarion West Writers Workshop donors and supporters.
This will be the first of six weekly parties presented this summer by the Clarion West community in conjunction with the annual Clarion West Writers Workshop, which prepares writers for professional careers in the fantastic genres. More information on Clarion West is available at www.clarionwest.org.