Guest Post: The Watcher and the Weird
by Ann VanderMeer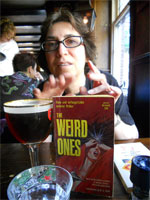 The Weird, as opposed to horror or dark fantasy, has a slippery quality of "you know it when you read it," with an element of terror, perhaps, but more likely unease. Weird stories don't necessarily have pat resolutions and the creepiness or intensity of them is part of the journey.
Although weird fiction has a strong and proud tradition in the UK and North America, it's not exclusively an Anglo phenomenon. As we discovered when reading for The Weird: A Compendium of Strange & Dark Fictions (Atlantic, November 2011), you can find weird all over the world. That anthology contains work from fourteen countries and every continent except Antarctica.
One of those countries is Finland, and the writer in question Leena Krohn, whose Tainaron is one of the finest short weird novels of the past fifty years. Works by the excellent Johanna Sinisalo, Boris Hurtta, and many other writers also exist in this visionary, hard-to-classify gray area.
I had a chance to see Finnish Weird first-hand recently during a whirlwind trip to Finland in April with my husband, Jeff. Sponsored by a FILI travel grant and the generosity of the incredibly strong local SF/Fantasy community, we spent seven days teaching workshops, doing presentations, and lecturing at various universities and writers groups. Our last day, in Helsinki, we attended Tähtivaeltaja Day, in honor of the great SF/F/H pop culture magazine Tähtivaeltaja, edited by Toni Jerrman.
But just the day before that, we were guests in nearby Espoo for Escon, sponsored by the local genre writers association. As part of the day's events, we led a two-part workshop, the first section on creativity and the second on careers. The creativity part was called "If you cry, the world will explode" and described this way: "A focus on creativity, surrealism, and the imaginative spark. You will need to write, you will have fun, and you might even learn something. But, we guarantee you won't cry."
Using a combination of exercises that free the subconscious but also introduce the idea of constraint, this particular workshop is meant to spark ideas, make participants write in ways different from their usual methodology, and find diverse ways into narrative. While stories can eventually evolve from what's written in this workshop, that's not the point. In this workshop we had the additional challenge of hoping the writers would feel comfortable and relaxed—i.e., to write in Finnish if that came most naturally. Some felt at ease writing in English, although others did write in Finnish, and then either summarize the results for us in English, or translate on the fly, which took additional guts on their part in our opinion.
Everyone who participated was wonderful—strange rabbits and Stalin's oranges come to mind—and several attendees were successfully published writers already. But one evolving story through the exercises was definitely weird in a very particular way, a fragment called "Watcher" by Leena Likitalo. Likitalo has only published one online story in Finnish but nothing in English, although she chose to write in English for our workshop.
"Watcher" was eerie in a William Hope Hodgson Night Land kind of way. Even as a fragment it created that little frisson of awareness, of connection—the sense of recognition that a reader of the weird develops. It's that addiction of the weird reader…to that unusual, sometimes surreal, sometimes off-center phrase or description that serves as a doorway to a full-on experiencing of The Weird.
About a week after the workshop, Leena sent a finished version of "Watcher" to me. I read it at first with trepidation, because the purpose of the exercises is to extract useful material from what's written in the workshop and use it elsewhere, but rarely did complete stories develop directly from these particular exercises. What if the story didn't work or didn't go anywhere? What if she took out the most interesting parts? And even if it was good, as Weird Tales editor I get well over 1,000 submissions a month and can only take 40-50 stories a year. What were the odds?
As it turned out, the odds were pretty good. Not only was the finished "Watcher" great—it was still very eerie, and it only built in power through its three sections. The perfect example of the short, sharp shock of the weird. As the story folded into itself and reached its final paragraphs, I knew I'd found a perfect gem of a Weird Tale. Now, granted, the self-translation was rough in places, but Leena had managed to get across the most important elements despite that, more than enough to make a copy-edit an easy fix to a final version for the magazine.
This will be Leena Likitalo's first English-language story sale, to one of the most venerable brand-names in the history of US genre magazines, and I couldn't be more thrilled. To me, the whole process exemplified the can-do, positive, and energetic attitude and vibe we experienced while in Finland. This is also the first time, as far as I know, that this surrealist exercise generated a completely-realized story.
It also matched our experience of Finnish literature, which we believe has a definite strain of the weird running through it. Even recent Facebook conversations between Finnish authors have latched onto the word "weird". On one thread, Jussi K. Niemelä noted that after seeing the movie Rare Exports in December of 2010 author Johanna Sinisalo "came up with the name for the genre" in a discussion on her profile page, and "had the idea of labeling all creative products of this kind with the name Finnish Weird," as a way of categorizing otherwise hard-to-classify types of Finnish cross-genre fiction.
This makes a lot of sense to me, but whatever you call it, this is the kind of fiction that excites me as an editor and a reader—and it's even more exciting when you can travel so far a distance and still find the weird waiting for you when you arrive. I can't wait to explore even more Finnish Weird.
(Note: For more on Finnish SF and F, my husband wrote two posts for Amazon, which you can read here and here.)
•••
Ann VanderMeer is the founder of the award-winning Buzzcity Press and currently serves as the Editor-in-Chief for Weird Tales, for which she has received a Hugo award. Ann has partnered with her husband, author Jeff VanderMeer, on such editing projects as the World Fantasy Award winning Leviathan series, The Thackery T. Lambshead Pocket Guide to Eccentric & Discredited Diseases, The New Weird, Steampunk and Fast Ships, Black Sails. A guest editor for Best American Fantasy, she is currently co-editing A Compendium of Dark and Imaginative Fictions. Her latest anthology project with Jeff is The Thackery T. Lambshead Cabinet of Curiosities, scheduled for June 2011 from Harper Voyager.
She has also taught many writing workshops, including Clarion, Odyssey and Shared Worlds as well conducting creativity seminars for such varied audiences as the librarians of the state of Arizona and Blizzard Entertainment. She has been profiled/interviewed for WIRED.Com, National NPR and The Weather Channel.
This post originally appeared at Weird Tales Editor's Desk.