Nebula Awards Interview: Pearl North
by Tehani Wessely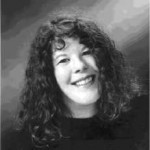 Pearl North is the author of Libyrinth, The Boy from Ilysies, and the forthcoming conclusion to the Libyrinth trilogy, The Book of the Night. Previously, she wrote three science fiction novels for adults under her real name, Anne Harris, and was a Nebula finalist for the fantasy short story, "Still Life With Boobs." She mentors students in Seton Hill University's Writing Popular Fiction MFA program and can be found online at anneharris.net.
Boy from Ilysies is the sequel to Libyrinth. How hard is it to continue a story like this, and to write it in a way that someone like me, who hasn't read the first one, can still enjoy it on its own?
Sequels are a challenge. First of all, there are all the continuity issues. You are bound by what happened in the first book, and there are a lot of details to keep track of. And then of course, there's the matter of making the book stand on its own. In some ways, I was fortunate in this aspect, because when I wrote Libyrinth, I did not conceive it as the first volume in a trilogy. That meant that when I started on The Boy from Ilysies, I had to create a whole new story based in that world. Taking a minor character from the first book and making him the protagonist also helped. Still, there was some back story to fill in here and there, and that was actually the majority of the revisions I got from my editor — bring the reader up to speed with what happened in the first book. It's rare for a sequel to garner more critical acclaim that the first book in the series, so I'm particularly proud of Boy making the final Norton ballot.
There are some very interesting gender things going on in the book, with Po, the main character, struggling to learn to change his ingrained knowledge of what it means to be a man. What made you decide to write about these sorts of things so overtly, and what challenges did it produce?
Gender issues are an abiding interest of mine. I'm fascinated with how gender is constructed and how different people negotiate the spaces in between societal definitions, or morph them to fit their own reality. Po is a young man from a female dominant society, so he has a very different set of expectations about how men and women behave than we do. One of the great joys of writing this book was looking at the world through Po's eyes. He provided a wonderful lens through which to observe our own ideas of what is "normal."
One thing I wanted to avoid was making Po simply a girl with a penis. He does have a lot of things in common with women from patriarchal cultures but there needed to be some differences too. That's where the physical violence enacted laterally toward other men came in, for example.
Do you think that the exploration of gender and sexuality in the book challenges some of the traditional boundaries of what defines YA? Have you had any feedback from parents or librarians on this?
I suppose it depends on what you mean by traditional. The days of YA being a genre where certain issues are "off limits" have been behind us for some time. I know The Boy From Ilysies is not unique in examining gender. For example, Lauren McLaughlin has written two novels about a girl who becomes a boy during her menstrual period. I read the first, Cycler. It was great.
As for feedback from parents or librarians, I have to be honest and say there hasn't been any. A bit disappointing, really. You'd think that with an opening scene where the main character exposes his genitals to one of the female characters, Boy could at least get banned in Texas. But so far, no luck.
Boy from Ilysies is purportedly science fiction, set in a distant future, but it has a strong fantasy feel. Is this deliberately done?
I get this question a lot and it always makes me laugh because the truth is, when I first set out to write Libyrinth, it was going to be a fantasy novel. Except I'm such an SF person, if I spend any length of time with a project I start saying to myself, "Magic, okay, yes, but how does it really work?" And that's just what happened in these books.
This is only the second book from Pearl North, but I believe you also write for adults under another name. What made you choose this path as a writer?
It was the project first, then the genre. Libyrinth is a book about a young girl who grows up in a library so vast people sometimes get lost in it and never come out again. And books talk to her. It had to be YA.
What's coming up next from you?
The third book in the Libyrinth trilogy, entitled The Book of the Night, should be out next fall.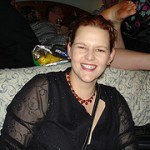 Tehani Wessely was a founding member of Andromeda Spaceways Inflight Magazine in 2001. Now firmly entrenched in Australian speculative fiction and small press, she has edited for Twelfth Planet Press (among other duties), judges for the Aurealis Awards, reads far more in one genre than is healthy, and writes reviews, non-fiction and interviews for ASif!, Fiction Focus and Magpies. In her spare moments, she works as a Teacher Librarian and enjoys her husband and three children.
Tehani is the editor of ASIM #4, #16, #27, #31 and #37, three Best Of ASIM e-anthologies, co-editor of ASIM #36, the Twelfth Planet Press anthology New Ceres Nights and other projects. She is currently working on an anthology of children's stories titled Worlds Next Door, and a reprint anthology of Australian alternate mythologies from her own press, FableCroft Publishing.