Quick Updates for 2012-02-01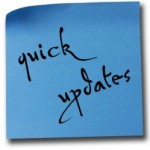 Member News
SFWA member Stephanie Draven announces the release of her latest Greek myth-inspired Paranormal Romance, THE FEVER AND THE FURY.
Goodreads and Tor are giving away five copies of SFWA member Elizabeth Bear's forthcoming novel RANGE OF GHOSTS. Entries close on February 10th
SFWA member Tony Pi's "Remains of the Witch" is the cover story for InterGalactic Medicine Show #26
SFWA member Eugie Foster's short story "Biba Jibun" was published by Pseudopod.
SFWA member Eugie Foster sold a short story reprint "Requiem Duet, Concerto for Flute and Voodoo" to podcast Journey Into.
SFWA Member D. Walters Grintalis is thrilled to announce the sale of her debut novel, INK, to Don D'Auria at Samhain Horror.
SFWA Member J. F. Lewis is thrilled to announce the the release of his fourth book, Burned: A Void City Novel.
Resources
SFWA member Jim C. Hines shows his writing income. Required reading for people interested in the economic side of writing.