2012 Service to SFWA Award goes to
Clarence Howard 'Bud' Webster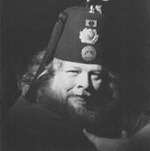 The Science Fiction and Fantasy Writers of America would like to award Clarence Howard 'Bud' Webster the 2012 Service to SFWA Award for his outstanding work on behalf of the organization.
Bud has had a long history in the science fiction and fantasy community. He is a contributing editor and columnist for the SFWA Bulletin, the poetry editor of Black Gate Magazine, and well-known for the Bubba Pritchert series, published by Analog Science Fiction and Fact magazine. However, it is his work with the Estate Project that SFWA particularly wishes to acknowledge with this award.
The Estate Project is designed to track and distribute information pertaining to deceased members of the community. Bud has worked extensively with agents, executors and heirs to track this valuable information. Due to his patience and perseverance, this information is now available to the industry at large.
"Bud Webster is a tireless force and dedicated to the health of science-fiction and fantasy. While our jobs are often writing about the future, Bud makes certain that we don't forget the past by keeping track of developing a database of literary estates."
~Mary Robinette Kowal
VP, SFWA
"SFWA has honored me more than I can say.  As a writer interested in the history of our field, I get a strong sense of fulfillment in helping editors and publishers make classic work available to a new readership.  I am proud of what we've been able to accomplish with the Estate Project, and proud of being a member of the Science Fiction and Fantasy Writers of America."
~Bud Webster

The Estate Project
The Estate Project is an active database of the estates of deceased authors, which includes contact information for their heirs and/or agents. This resource enables editors, publishers and agents to obtain permissions, make payments, ensure legitimate publication without copyright violations, and double-check rights.
By providing this information, we increase the likelihood that legitimate, authorized editions of classic works will be made available. The Estate Project helps publishers stay on the up-and-up, protects them from potential legal repercussions, and negates the 'we couldn't find the information!' excuse from people who do not wish to abide by the rules.
As it stands now, the database contains information on nearly 350 estates so far.
This is an ongoing, constantly-updated resource. If you have information, questions or comments, please contact Bud Webster at estates@sfwa.org.
The Service to SFWA Award
This is the eleventh time that the Service to SFWA Award has been presented. Previous recipients were Victoria Strauss, George Zebrowski and Pamela Sargent (joint), Michael Capobianco and Ann Crispin (joint), Keith Stokes, Vonda McIntyre and John E. Johnston, III.
The Service To SFWA Award will be presented at the 47th Annual Nebula Awards Weekend in Arlington, Virginia, May 17-20, 2012.
The 47th Annual Nebula Awards Weekend
The winners will be announced at SFWA's 47th Annual Nebula Awards Weekend, to be held Thursday through Sunday, May 17 to May 20, 2012 at the HyattRegencyCrystalCity in Arlington, Virginia, near Reagan National Airport. As announced earlier this year, Connie Willis is the the recipient of the 2011 Damon Knight Grand Master Award for her lifetime contributions and achievements in the field. Walter Jon Williams will preside as toastmaster, with Astronaut Michael Fincke as keynote speaker.
Founded in 1965 by the late Damon Knight, Science Fiction and Fantasy Writers of America brings together the most successful and daring writers of speculative fiction throughout the world.
Since its inception, SFWA® has grown in numbers and influence until it is now widely recognized as one of the most effective non-profit writers' organizations in existence, boasting a membership of approximately 1800 science fiction and fantasy writers as well as artists, editors and allied professionals.  Each year the organization presents the prestigious Nebula Awards® for the year's best literary and dramatic works of speculative fiction.