Spec-Fic and Podcasting: Earbuds vs. Books, Part 1
by Travis Heermann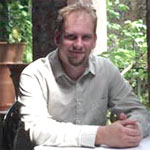 The emergence of the iPod has revolutionized the way our culture consumes media; music, videos, apps, and even literature, specifically in the form of audio fiction. Both long and short form audio fiction have thousands of avid listeners who take advantage of commutes, gym sessions, walks, etc., to catch up on their 'reading.'
Podcasting has launched the careers of a handful of authors, such as Scott Sigler, J.C. Hutchins, Mur Lafferty, and others. It is also changing the landscape of genre fiction. Podcasts such as Star Ship Sofa and SF Signal are showing up on industry awards ballots.  Escape Pod, one of Escape Artists' family of podcasts, has joined more venerable publications as a qualifying SFWA market.* It reports 28,000 downloads per weekly episode. These numbers exceed the circulation of even most prestigious and long-standing genre magazines, such as Asimov's and F&SF.
But what do those numbers mean for the business side of genre publishing and the realm of short fiction? Podcasting requires no payment for downloading or listening. The iTunes and distribution infrastructures do not support a pay-first-then-download system, forcing podcasters to rely on sponsorships from advertisers and donations from listeners to monetize their efforts. Does any writer really produce an entire novel with no dream or expectation of being paid for it? Can magazines survive on donations alone? Is podcasting's dependence on donations a viable business model?
Mur Lafferty was one of the early pioneers of genre podcasting, as well as being instrumental in creating the Parsec Awards, given every year for excellence in creative podcasting. She has since launched a career with several podcast novels, moved into traditional publishing, and she joined Escape Pod as editor in 2010. As of this writing, she is also nominated for the 2012 John W. Campbell Award for Best New Writer.  She first heard about podcasting in October, 2004, and thought it was the coolest thing ever. "I wanted to do my own show, but not sure what I should do, so I took some time to brainstorm and figure it out. I ended up deciding to release my geeky essays, in addition to doing an audio blog, and called it Geek Fu Action Grip. I got addicted to it, and have released several more shows and fiction pieces since."
The Growth of a New Medium
In the early days, Lafferty says, "There were fewer than 1,000 of us, even fewer women, and none of the tech or media companies acknowledged us. We had to explain what it meant more often. There was a tighter community feeling, obviously, because of how few we were. iTunes implementing podcasting was huge, but also encouraged media companies to get involved, which eclipsed the indie podcaster."
The biggest development in the early days of podcasting was the integration into iTunes. Suddenly a whole population of listeners who had iTunes–but not necessarily iPods–discovered they had access to podcasts, too. At this point, the media companies took notice, seeing a central distribution source for their shows.
Since those early days, Lafferty says that podcasts haven't gone as mainstream as many hoped they would. "The problem, I think, is the learning curve for audio production is still pretty high. It's also not free–being on the Internet is not free, naturally, but this requires hosting and equipment and possibly software purchases. Lastly, with official media companies' shows, it's hard to get a new indie show noticed.
As the market evolves, so must podcasters. Earlier this year, Lafferty monetized her long-running show I Should Be Writing by offering premium content for a small fee. Thus far, she says, "I make a steady income, even though I find it difficult to release as much premium content as I'd like to. I'm hoping to change some things and offer people more this summer, but I can't promise until it's official. … Can I live off what my podcasts bring in? Heck no. Does it supplement my income to a level where I would miss it if it dried up? Yes."
The Growth of a Podcaster
Lafferty's personal turning points with podcasting came after she was invited to join The Dragon Page in early 2005, at which time it was the largest speculative fiction podcast in the market. She says, "Being part of them really widened my audience. From there I started releasing fiction in 2006, which built it larger. My last surge in listenership was the release of my book Playing for Keeps in 2007, which got me an agent and a small press book deal. Two years ago I took over as editor of Escape Pod, the 7 year old podcast magazine, which was a great honor."
Lafferty's efforts with podcasting have taken a number of forms, from Geek Fu Action Grip to I Should Be Writing and several serialized novels released for free. Her podcast novels have been produced in a number of different processes, all learning experiences. She says, "I've released books as I wrote them, I released them as heavily-edited serials. I learned that releasing serially, like Dickens did, was quite difficult, as there was no chance to go back and retcon a previous decision. I learned when I released a book all at once, I started getting comments a couple of hours later like, 'OK, where's the next one?' Which, while gratifying, is frustrating." The safest way she has found to do things is to write, edit, record all of it, and release it on a schedule.
 Part Two of "Spec-Fic and Podcasting: Earbuds vs. Books" appears here.
*This blog has been edited. It previously stated that Escape Artists pays SFWA rates for all of its podcasts. This is incorrect. Podcastle and Pseudopod pay a cap of $100. 
•••
Freelance writer, poet, screenwriter, podcaster, poker player, biker, roustabout, Travis Heermann is an award-winning screenwriter and the author of the fantasy novels Heart of the Ronin and Rogues of the Black Fury published by E-Reads, plus the YA SF/horror novel The Wild Boys, forthcoming from Damnation Books. He's churned out a metric ton of role-playing game content for AEG and EVE Online since 1999, and he has sold short fiction to anthologies and magazines such as Weird Tales, Cemetery Dance, and others. He taught English in Japan for three years, where he stood out like a space alien with his head on fire, but he now lives in much larger world than before. He's camped out in the mountains, writing and scheming and dreaming of a NYT best-seller and a seat in the World Series of Poker. For more information, check out his website or blog.