SFWA Spotlight on Pro Markets: Strange Horizons
by Lucas Johnson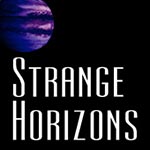 Strange Horizons is a non-profit magazine of and about speculative fiction and related nonfiction. The magazine was founded in September 2000 by Mary Anne Mohanraj, who was Editor-in-Chief until 2003. Susan Marie Groppi was Editor-in-Chief from 2004 through 2010, and Niall Harrison is the current Editor-in-Chief. Karen Meisner, Jed Hartman, and Susan Marie Groppi were the long-reigning fiction editors before Brit Mandelo, Julia Rios, and An Owomoyela came on board in 2012. With an all-volunteer staff and a limited budget for advertising and self-promotion, the magazine's financial resources are devoted to professionally compensating writers for publication rights to their works. Work published in Strange Horizons has been shortlisted for or won Hugo, Nebula, Rhysling, Theodore Sturgeon, James Tiptree Jr., and World Fantasy Awards.
What is a Strange Horizons story?
Brit: We have fairly varied tastes as a group and a magazine, to be honest. I definitely enjoy things that I find provocative, emotionally or narratively; I like challenging stories that are doing neat things, whatever those may be. (On the other hand, I also like cute and entertaining stuff, so.)
Julia: I was a fan of the magazine for many years before I became an editor, and what always excited me about Strange Horizons was that it would surprise me. I knew that each story would give me something to think about. Some of them left me heartbroken, and others left me laughing, but all of them made me feel a little richer inside for having read them. That's what I hope to find when reading submissions now.
An: Often, the answer is "A story that surprises us into realizing it's a Strange Horizons story."  We enjoy stories that surprise us by working when we thought there was no way they could work. Other good points include strong, plausible human narratives, evocative prose (which doesn't always mean "ornate" – sometimes, spare can be even more evocative), and things (styles, ideas, outcomes, etc) we haven't seen before.  I'm always excited to see works of hyperfiction, even though so far we haven't seen one we've fallen in love with.
What kinds of speculative elements are you especially looking for in stories?
Brit: I feel that we tend to look more at the story as a whole than at its singular speculative elements–not so much the idea as the execution, if that makes sense?–but overall, I'd say that we have a pretty liberal definition of "speculative" and we like to see a whole lot of different angles on it.
An: Anything, really. If it could be argued to be speculative, we'll be glad to look at it. Stories we've loved have ranged from plausible near-future science to fantastical genre-mixing stories borrowing heavily from traditional mythologies.
Julia: I think we tend to like character-driven science fiction and fantasy stories which bring something new to the table. This could be anything from sword and sorcery to contemporary fantasy to post-earth intergalactic intrigue. The main thing is that stories should make us think about things in new ways.
What kinds of stories are you definitely NOT looking for, either because you've seen too many like them or they just don't fit the magazine's sensibility?
Brit: Well, we've seen a lot of stories recently about memory loss, so that's going to be a hard sell right now. For the bigger picture, we generally aren't into straight-up horror stories.
Julia: We're really not a horror market, so that's a big one. I didn't realize how much I really never want to read about cannibalism until I became an editor! I am sure that's great for other markets, but not for us. I think we're really burned out on zombies, too. We've just seen so many zombie stories that even good, character-driven ones with great insight into humanity and really funny jokes are going to be a tough sell for us right now. Other than that, it's hard to say. Things tend to come in waves, so a trope we're tired of this month might not be tiresome next month, and vice versa.
An: Yeah, what we see too much of tends to shift from month to month and week to week. As I write this, we've seen a whole slew of post-apocalyptic stories; that may change by the time this goes to print. Generally, we're not into despicable narrators and characters unless handled really well; stories steeped in a misogynistic, racist, grotesque, violent, or arrogant worldview, for example, often come across as annoying rather than provocative, often because they rely on those tropes as easy-button triggers to act on the assumed reader's emotions.
What sets your magazine apart from other spec fic markets?
Brit: In the fiction department, I'd say our editorial vision, which I'd categorize as having a focus on diversity, inclusion, and challenging dominant narratives while supporting marginalized voices–all with great writing! Also, we're one of the longest running online magazines in the genre (if not the longest-running), and all of our departments have great contributors, so we have plenty of content-variety.
An: I love that we have three editors, which gives us a lot of range in tastes and opinions.  Many of our stories are taken because we all love them, but there's a not-insignificant percentage that get grabbed because one of us loves the work in question and exercises editorial discretion even if the other two were lukewarm on it.  Recently, we've also been proactive in giving personal rejections or asking for revision requests, which is nice; if we can help an author make a story stronger, that's an editorial job well done, even if it's still not ultimately right for Strange Horizons.
Julia: Aside from the way our fiction editing team works together (which Brit and An have covered pretty well, I think), we're an online magazine that's been around for 12 years! That in itself is pretty distinctive. We're also open to lots of different styles; we don't focus on any subset of science fiction or fantasy, and we've always encouraged new writers and underrepresented viewpoints. Also, we're a non-profit endeavor. It's pretty cool that for over a decade so many people have donated their time and money to keep the magazine going. I hope it lasts for many more years.
How many stories do you publish a year? How many are by new writers?
Julia: We publish somewhere between 24 and 36 new stories per year, and we're always open to new writers. We like to have a mix of new writers and familiar names, but when we're reading, we just look for stories we love first and foremost.
Brit: Yeah, we do try to support new writers, and we look forward to publishing stories by folks who are relatively new to publishing in the field. We're certainly open and welcoming to folks from all over the globe, new or old-hat at the spec-fic gig.
An: One of the things we do on new sales is to check if the author seems to have any previous publications, or previous pro publications. Accepting a story from someone who doesn't always makes my day.
What are some of your favorite stories SH has published recently, or ever?
Brit: The recent Molly Gloss story, "The Grinnell Method," is a favorite of mine. It's subtle and handsome and doing a lot of those neat things I mentioned enjoying, previously. (Of course, I'm a little biased.) As for more recent things I liked: "The Mad Scientist's Daughter" by Theodora Goss, and "Seven Sexy Cowboy Robots" and "Diana Comet" by Sandra McDonald. As for "ever," just about a hundred others, by a bunch of wonderful and inventive writers.
Julia: "Zero Bar" by Tom Greene knocked my socks off this year, because it brought up so many things I'd experienced in my own life. I think a lot of the time I love Strange Horizons stories that showcase the variety of ways humans experience things. "No Return Address" by Sigrid Ellis is a great example of that, because it turns the classic young adventurer fantasy story on its head by showing us the mother's point of view. "Rising Lion, the Lion Bows" by Zen Cho is another one that surprised me and left me feeling happy. It's a contemporary fantasy with characters from different cultural backgrounds who work together creatively to solve their central problem. I also love stories that explore gender like "Source Decay" by Charlie Jane Anders, and the Sandra McDonald stories Brit mentioned.
An: My hands-down favorite would have to be "Until Forgiveness Comes," by K. Tempest Bradford.  It's a challenging look at a challenging topic, and it refuses to sanitize or simplify any of it.  A recent favorite is Tom Greene's "Zero Bar," which takes a social issue and spins it out into a plausible future, nuanced and painfully familiar even when the story rests on the back of fictional science.  But Strange Horizons has published so many strong stories over its many years that those two face a lot of competition – "Fourteen Experiments in Postal Delivery" by John Schoffstall, Shaenon K. Garrity's "Librarians in the Branch Library of Babel," "Who In Mortal Chains" by Claire Humphrey, Eugene Fischer's "Husbandry," and "No Return Address" by Sigrid Ellis represent a very few of the excellent works we've had.
Your fiction editorship recently changed. How has the magazine changed as a result?
Brit: Well, in a technical sense, we've gotten our average response time down considerably–we're pretty happy about that! As for tone, our individual tastes are necessarily different because every person and editor is different, but SH's overall mission has remained near the same.
Julia: I think this editorial team is still new enough that it's hard to say how our combined tastes differ from the last team's. That said, I know that we're all committed to maintaining lower response times and streamlining the experience for submitters. The previous team worked amazingly hard for so many years, and there are mountains of documentation to show for it. We're in the process of sorting through all of that and trying to find ways to make it all more accessible. One of our next goals is to create a simplified version of the fiction guidelines. I think some writers get overwhelmed at the idea that they need to read pages and pages of text before they consider sending us a story. We want to keep all the valuable old information available to everyone, but make it clear that in order to submit, there are really just a few key things to keep in mind.
An: We're still figuring that out.  One of the interesting things we see in our editorial meetings is that, from time to time, one of us will put a story up for consideration with a note like "This was doing interesting stuff, and while it wasn't working for me, I wondered if it would work for one of you better", and then we all discuss it.  Sometimes it'll turn out that it doesn't match any of our tastes; sometimes one of us will go "I really love this" and we'll end up taking it.  It's a lot of fun.
What are some of y'all's fictional touchstones? Favorite authors and stories and genres?
Brit: Some touchstones, or folks who made huge and lasting impressions on me: Joanna Russ; Ursula K. Le Guin; Virginia Woolf; Audre Lorde; Judith Butler; James Tiptree Jr./Alice Sheldon; Samuel Delany.
Favorites who are a bit more contemporary for me: Elizabeth Bear; Caitlin R. Kiernan; Nnedi Okorafor; Kate Bornstein; Warren Ellis; Neil Gaiman; Alison Bechdel; Ellen Kushner; Delia Sherman; Nalo Hopkinson; Jo Walton; Ted Chiang. (I feel as if I could just keep going and not run out, honestly.)
Overall I'm pretty generically adventurous. I like most, if not all, genres–I lean toward queer and feminist fiction, of course, no matter the genre. Also, I have a weakness for metafiction.
An: I grew up on Redwall and Star Trek, and to this day I have soft spots for quest-adventure fantasy and space opera with a strong thread of social commentary.  Much as I love dystopian stuff, optimistic SF always lights me up.  One of my favorite working definitions of speculative fiction comes from Asimov's guidelines: "all fiction is written to examine or illuminate some aspect of human existence, but that in science fiction the backdrop you work against is the size of the Universe."
I tend to fall for individual works more than authors: to rattle off a few from the top of my head, "To Say Nothing of the Dog" by Connie Willis, "Season of Migration to the North" by Tayeb Salih, "Who Fears Death" by Nnedi Okorafor, "Hermit and Six-Toes" by Viktor Pelevin, "Parable of the Sower" by Octavia Butler, "The Lions of Al-Rassan" by Guy Gavriel Kay, "Liar" by Justine Larbalestier, "Congenital Agenesis of Gender Ideation" by Raphael Carter, "What We Found" by Geoff Rhyman, and "Parable of the Shower" by Leah Bobet are all stories that stuck with me, all for very different reasons.
Julia: It's so hard to answer this! I have been a reader for my entire life, and I love too many books to name them all. I want to second everyone Brit and An mentioned! Some other authors who have made giant impressions on me include Jane Austen, Maureen McHugh, Gene Wolfe, and Andrea Hairston. I have to mention M. M. Kaye, Jane Yolen, and Patricia Wrede, who all showed me that princesses didn't have to be delicate, high-strung people whose chief occupations were looking pretty and attracting men. I also read a lot of Heinlein and Vonnegut as a child. I liked Heinlein for showing young people out on really important and exciting space adventures, and Vonnegut for playing with language and looking deep into each and every character he presented. A very few of my favorite non Strange Horizons stories include "The Horrid Glory of Its Wings" by Elizabeth Bear, "Travels with the Snow Queen" by Kelly Link, "The Lady Who Plucked Red Flowers Beneath the Queen's Window" by Rachel Swirsky, "The Cartographer Wasps and the Anarchist Bees" by E, Lily Yu, and "The Paper Menagerie" by Ken Liu (voting for the Hugos was really difficult this year).
If Strange Horizons was a superhero, what would be its name and superpower?
Julia: The Diverse Wonder! Its superpower would be reflecting people and places in unexpected ways. Villains would be so surprised by the insights they gained that they'd forget to be evil.
An: Well, it's got the longstanding Strange Horizons brand already, and even if that's not your typical superhero name, I think it could be forgiven because it's the animate incarnation of a wide-ranging body of fiction, and confining it to human naming conventions would just be silly.  I'd really like it to have some kind of subtle memetic superpower, like subtly altering social preconceptions wherever it went.  Strange Horizons flies to Omaha and suddenly everyone starts living life xenofictively…
Brit: If the magazine itself became animate and self-aware, I suspect we'd have bigger concerns than what its superpower would be?
•••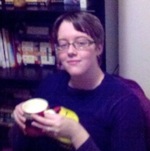 Brit: "Brit Mandelo is a writer, critic and editor whose primary fields of interest are speculative fiction and queer literature, especially when the two coincide. She is the senior fiction editor for Strange Horizons Magazine and has two books out, Beyond Binary: Genderqueer and Sexually Fluid Speculative Fiction and We Wuz Pushed: On Joanna Russ and Radical Truth-telling. Her work—fiction, nonfiction, poetry; she wears a lot of hats—has also been featured in magazines such as Stone Telling, Clarkesworld, Tor.com, and Ideomancer. She is a Louisville native and lives there with her partner in an apartment that doesn't have room for all the books."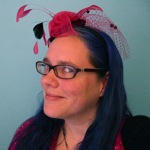 Julia: Julia Rios is a writer, editor, podcaster, and narrator. She promotes QUILTBAG speculative fiction with The Outer Alliance (in part by hosting the Outer Alliance Podcast), is the staff interviewer for Stone Telling: The Magazine of Boundary-crossing Poetry, and occasionally reads stories for places like PodCastle and Pseudopod. Her fiction, articles, and poetry have appeared in Daily Science Fiction, Apex Magazine, Jabberwocky, and several other places. Julia is half Mexican, but her (fairly dreadful) French is better than her Spanish. She loves cats and colorful things, and expresses the latter by dyeing her hair bright colors and messing about with papercrafts.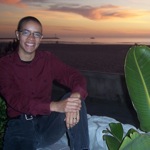 An: An (pronounce it "On") Owomoyela is a neutrois author with a background in web development, linguistics, and weaving chain maille out of stainless steel fencing wire, whose fiction has appeared in a number of venues including Clarkesworld, Asimov's, and Lightspeed.  An's interests range from pulsars and Cepheid variables to gender studies and nonstandard pronouns, with a plethora of stops elsewhere.  Se graduated from the Clarion West Writers Workshop in 2008 and attended the Launchpad Astronomy Workshop in 2011. Recently, someone entrusted sen with a magazine, which was certainly an interesting decision.
•••
SFWA will continue to spotlight Qualifying Professional Short Fiction Markets in the coming months.
•••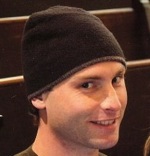 Lucas attended Clarion West Writers Workshop in 2009. This November, in addition to freelance copywriting, proofreading and assorted other publishing-related gigs, he's doing NaNoWriMo.