2012 World Fantasy Award Winners Announced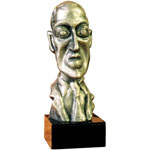 The World Fantasy Awards are presented annually to individuals who have demonstrated excellence in the fantasy field.
A panel of judges and members of the World Fantasy Convention select nominees. Winners are selected by a panel of judges that differs every year. This year's judges were John Berlyne, James P. Blaylock, Stephen Gallagher, Mary Kay Kare, and Jacques Post.
2012 World Fantasy Lifetime Achievement Award Winners

Alan Garner
George R.R. Martin.
Novel
Winner: Osama, Lavie Tidhar (PS Publishing)

Nominees:
• Those Across the River, Christopher Buehlman (Ace)
• 11/22/63, Stephen King (Scribner; Hodder & Stoughton as 11.22.63)
• A Dance with Dragons, George R.R. Martin (Bantam; Harper Voyager UK)
• Among Others, Jo Walton (Tor)
Novella
Winner: "A Small Price to Pay for Birdsong," K.J. Parker (Subterranean Winter 2011)
Nominees:
• "Near Zennor," Elizabeth Hand (A Book of Horrors)
• "Alice Through the Plastic Sheet," Robert Shearman (A Book of Horrors)
• "Rose Street Attractors," Lucius Shepard (Ghosts by Gaslight)
• Silently and Very Fast, Catherynne M. Valente (WSFA Press; Clarkesworld)
Short Story
Winner: "The Paper Menagerie," Ken Liu (F&SF 3-4/11)

Nominees:
• "X for Demetrious," Steve Duffy (Blood and Other Cravings)
• "Younger Women," Karen Joy Fowler (Subterranean Summer 2011)
• "A Journey of Only Two Paces," Tim Powers (The Bible Repairman and Other Stories)
• "The Cartographer Wasps and the Anarchist Bees," E. Lily Yu (Clarkesworld 4/11)
Anthology
Winner: The Weird, Ann & Jeff VanderMeer, eds. (Corvus; Tor, published May 2012)

Nominees:
• Blood and Other Cravings, Ellen Datlow, ed. (Tor)
• A Book of Horrors, Stephen Jones, ed. (Jo Fletcher Books)
• The Thackery T. Lambshead Cabinet of Curiosities, Ann & Jeff VanderMeer, eds. (Harper Voyager US)
• Gutshot, Conrad Williams, ed. (PS Publishing)
Collection
Winner: The Bible Repairman and Other Stories, Tim Powers (Tachyon/Subterranean Press)
Nominees:
• Bluegrass Symphony, Lisa L. Hannett (Ticonderoga)
• Two Worlds and In Between, Caitlín R. Kiernan (Subterranean Press)
• After the Apocalypse, Maureen F. McHugh (Small Beer)
• Mrs Midnight and Other Stories, Reggie Oliver (Tartarus)Winning Artist:
Artist
Winner:  John Coulthart
Nominees:
• Julie Dillon
• Jon Foster
• Kathleen Jennings
• John Picacio
Special Award Professional
Winner: Eric Lane, for publishing in translation – Dedalus books

Nominees:
• John Joseph Adams, for editing – anthology and magazine
• Jo Fletcher, for editing – Jo Fletcher Books
• Brett Alexander Savory & Sandra Kasturi, for ChiZine Publications
• Jeff VanderMeer & S.J. Chambers, for The Steampunk Bible
Special Award Non-Professional
Winner: Raymond Russell & Rosalie Parker, for Tartarus Press

Nominees:
• Kate Baker, Neil Clarke, Cheryl Morgan & Sean Wallace, for Clarkesworld
• Cat Rambo, for Fantasy
• Charles Tan, for Bibliophile Stalker blog
• Mark Valentine, for Wormwood