Book Expo America: SFWA Schedule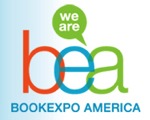 SFWA will once again have a booth at Book Expo America again this year. An annual event currently held in New York City, BEA brings together publishing professionals for a three day trade show. The show is heavily attended by librarians and bloggers, providing a valuable opportunity for authors and publishers.
This year, SFWA will also be holding a thirty minute presentation on the genre, with Laura Anne Gilman, Jim Hines, Jeri Smith-Ready and Leanna Renee Hieber speaking.
SFWA will be at Booth 2625. We'll have signings, give-aways, authors and other fun stuff, so stop by and say hello if you make it in! If you have questions, you can contact Jaym Gates at pr@sfwa.org.
  Science Fiction and Fantasy Writers of America
Book Expo America
Signing Schedule
Thursday
1:30: James Sutter
2:00: Michael Martinez
2:30: Jeri Smith-Ready
3:30: Alethea Kontis
4:00 Laura Anne Gilman
Friday
11:00: Sarah Beth Durst
11:30: Shelly Reuben
1:30: Doug Molitor
2:00: Leanna Renee Hieber
2:30: Patrick Matthews
3:30: Jim Hines
4:00: Karen Heuler
Saturday
12:00: SFWA Reading
Panel Title: Meet the Science Fiction and Fantasy Writers of America
Stage Name & Location: Midtown Stage Stage, Booth #2077
Date: SATURDAY, June 1, 2013
Time: 12:00 pm – 12:30 pm
1:00: Diana Gabaldon