In Memoriam: Parke Godwin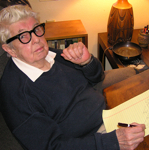 Harold Parke Godwin (b.1929) died of natural causes on June 19, 2013. Better known as Parke Godwin, the name under which he wrote, Godwin was known as "Pete" by his friends.  His novella "The Fire When It Comes" won the World Fantasy in 1982 and he was a World Fantasy Con Guest of Honor in 2011.
Godwin joined the military and served in the Korean War, doing top secret work at critical radio listening posts.  After the conflict, he became an actor, following in his family's footsteps and touring around the country, where he became friends with Marvin Kaye, another actor.  The two would eventually collaborate on three novels, The Masters of Solitude, Wintermind, and A Cold Blue Light.
Although Godwin was writing throughout the fifties and sixties, he didn't begin to publish his work until 1970, when his novel Darker Places was published.  Many of his books over the years dealt with the border where mythology met realism, with gritty versions of the Arthurian legend Firelord and Beloved Exile.  He gave similar treatments to Robin Hood in Sherwood and Robin and the King, St. Patrick in The Last Rainbow, King Harold in Lord of Sunset, Beowulf in The Tower of Beowulf, and Tristan and Isolde in his final novel, The Lovers, published under the name Kate Hawks.