In Memoriam: Richard Matheson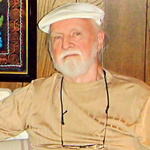 Richard Matheson (b.1926) died on June 23.  His varied career as an author began with his first published short story, the instantly classic "Born of Man and Woman," which was published in the Spring 1950 issue of Fantasy and Science Fiction.  Three years later, he published his first novel, Someone is Bleeding.  Subsequently, Matheson has written novels, short stories, television scripts, and films, and successfully producing classic works in all of those fields.
Matheson's novels include I Am Legend, What Dreams May Come, The Shrinking Man, and the World Fantasy Award winning Bid Time Return, all of which were turned into critically and commercially successful films, often multiple times, with Somewhere in Time winning a Saturn Award and The Incredible Shrinking Man winning a Hugo.
He wrote episodes of Star Trek, Night Gallery, The Martian Chronicles, and The Twilight Zone, producing more than a dozen scripts for the last, including "Nightmare at 20,000 Feet." While his novels were frequently mined for films, his short fiction was also used for the visual media as well, with his 1971 story "Duel," which was turned into a television movie by Steven Spielberg.
Not only did Matheson have an oversized influence on Hollywood, but he also inspired other authors, perhaps most notably Stephen King, who has discussed Matheson's influence on his own career, and Matheson's own children, Richard Christian Matheson, Chris Matheson, and Ali Matheson
In 1958, he was selected as the Guest of Honor for Solacon, that year's Worldcon.  He has received Lifetime Achievement Awards from the World Fantasy Con, World Horro Con, International Horror Guide, and the Horror Writers of America.  In 2010, he was inducted into the Science Fiction Hall of Fame, and he was set to attend the 2013 World Fantasy Con as a Guest of Honor until ill health forced him to announce his inability to attend at the beginning of the month.
—
CC Photo via JaSunni at PicasaWeb