In Memoriam: Neal Barrett, Jr.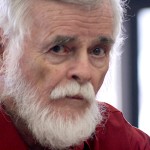 Neal Barrett, Jr. (b.1929) died on January 12.  Barrett was named SFWA Author Emeritus at the 2010 Nebula Award Weekend in Cocoa Beach, Florida.
Barrett began publishing science fiction in 1960 when his short story "To Tell the Truth" appeared in Galaxy. He published several more short stories throughout the 60s before publishing his first novel, The Gates of Time in 1970, followed by a continuous string of stories and novels, including many published under pseudonyms. In addition to publishing works in the Babylon 5, Spider-Man, Dungeons and Dragons, Hardy Boys, and Tom Swift series, he also created his own worlds, from the post-Apocalyptic Through Darkest America to the genetically engineered world of his Aldair series. His novel The Hereafter Gang was named as one of the great American novels by the Washington Post and his writing has also been compared favorably to the writing of R. A. Lafferty.
In addition to his science fiction, fantasy, and work for hire, Barrett also turned his literary talents to crime thrillers, bringing his gonzo style to those as well. Many of his short stories were collected in A Different Vintage in 2001 and in Other Seasons published in 2012.
SFWA President Steven Gould noted, "Over 30 years ago, Neal Barrett, Jr. helped this novice writer learn that telling a story is a delicate balance between too much information and too little. He was invariably generous to young writers and he has always been one of my role models for 'paying forward' in the field."