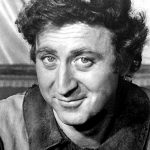 Nebula Award-winning screenwriter and actor Gene Wilder (b. 1933) died on August 29. Wilder portrayed Dr. Frankenstein in Mel Brooks's comedy Young Frankenstein as well as the fox in The Little Prince and the title role in Willy Wonka and the Chocolate Factory. Non-genre roles included the Mel Brooks comedies The Producers and Blazing Saddles as well as the title role in The Adventure of Sherlock Holmes' Smarter Brother. He also made four  films with Richard Pryor, Silver Streak, Stir Crazy, See No Evil, Hear No Evil, and Another You. Wilder was nominated for the Academy Award for his role in The Producers and his screenplay for Young Frankenstein. Wilder shared a Hugo Award and a Nebula Award with Mel Brooks for Young Frankenstein.
Gene Wilder was born Jerome Silberman in Milwaukee, Wisconsin. He created the role of Billy Bibbit in the Broadway play One Flew Over the Cuckoo's Nest and the Chaplain in Mother Courage and Her Children. His first film role was in Bonnie and Clyde, after which he found a home in comedy, making Start the Revolution Without Me, Everything You Always Wanted to Know About Sex * But Were Afraid to Ask, and Rhinoceros, which re-paired him with his The Producers co-star Zero Mostel.
He also starred in The Frisco Kid with Harrison Ford, about a Polish rabbi who teamed up with a bank robber to travel from Philadelphia to San Francisco. He retired from film in 1991, following his final collaboration with Pryor, although he made some television movies and guest appearances on tv shows, as well as starring in his own tv series, Something Wilder for one season.
Following the death of his wife Gilda Radner in 1989, he co-founded Gilda's Club, to raise awareness of ovarian cancer. Wilder was diagnosed with non-Hodgkin's lymphoma in 1999, but by 2005, the cancer was in complete remission. Wilder died from complications related to Alzheimer's disease. He is survived by his wife of 25 years, Karen Wilder.