Applications Open for Alpha SF/F/H Workshop for Young Writers
News from Alpha SF/F/H Workshop for Young Writers: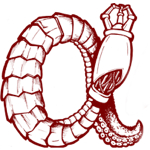 Alpha 2019 Applications Open
"There was no such thing as Alpha when I was a young writer. I think I would have committed a
number of murders to become part of something like this, and I hope that Alpha continues for another
hundred years, because it's incredibly valuable."  ~Tamora Pierce, #1 New York Times bestselling author
Applications are open through March 10, 2019 for the Alpha SF/F/H Workshop for Young Writers: a one of a kind 11-day residential writing workshop that teaches teenagers how to write genre fiction.
This year's workshop will take place July 24-August 4, in Greensburg, Pa., with guest authors Tamora Pierce and Mark Oshiro.
Students have attended Alpha from as far away as China, Turkey, Nigeria, New Zealand, and Australia. Financial aid is available to defray the cost of tuition.
Alpha graduates have published hundreds of acclaimed short stories and novels, and even been nominated for the Nebula and World Fantasy Awards. More than 200 young writers have come to Alpha to learn the tools of the trade from bestselling and award-winning authors.
Most of all, Alpha has helped many students feel—in many cases, for the first time in their lives—that they are part of a community. As one graduate wrote, "Being around so many amazing writers, so many amazing people, changed the way I saw the world to such an extent that I count Alpha as an integral part of my coming of age."
Workshop applications are online at http://alpha.spellcaster.org/apply/. Prospective Alphans can apply through March 10, 2019. The application fee is $10, and applicants must submit an original science fiction, fantasy, or horror short story of 2,000-6,000
words.
For more information, please contact: alpha@spellcaster.org