Announcing the Narrative Worlds Webinar Series!
The Science Fiction and Fantasy Writers of America, Inc. is pleased to announce a new webinar series as part of the ongoing 2020 SFWA Nebula Conference Online!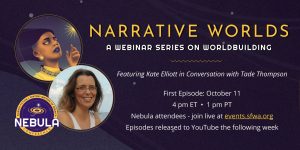 On Sunday, October 11, at 1:00 pm Pacific Time, Narrative Worlds will premiere live for Nebula conference attendees. This monthly Sunday series will dig into the idea of narrative worlds and the theory and practice of building the worlds in which stories are set. Rather than focusing on a survey of basics like "What elements do you need to create a setting?" host Kate Elliott will discuss a specific single topic in more depth each month with a guest. Topics will include technology, language, power, cosmology, use of details, agriculture, material culture, social space, and more.
On that October 11 launch date, Narrative Worlds' first guest will be award-winning author Tade Thompson! Tade and Kate will discuss "How Much Worldbuilding is Too Much? How Little is Too Little?" Upcoming guests include Zen Cho, Ken Liu, Nilah Magruder, Aliette de Bodard, Rebecca Roanhorse, and N.K. Jemisin!
Attendance is free for registered attendees of the Nebula conference—if you attended the conference in May, you are already registered. Registrations may be purchased at any time from the event website, and they include the archive of event recordings from the virtual Nebula conference and access to the Nebula weekly Writing Dates, among other benefits. The year-long registration lasts through April 2021.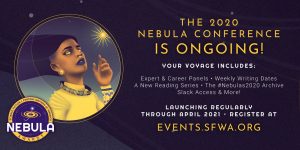 A videocast offers a format that can reach as many people as possible. The live vidcast is scheduled to fit a spread of time zones:
6 am Sydney, Australia / 1 pm PT USA / 2 pm MT USA / 3 pm CT USA/ 4 pm ET USA / 5 pm Rio de Janeiro / 8 pm Dakar / 9 pm UK / 10 pm Western Europe
It will also be recorded and available afterward for viewing at the event website for Nebula attendees. One week after the live vidcast, the episode will be made available to the public for free on the SFWA Youtube channel.
Upcoming dates for Narrative Worlds are November 15, December 20, January 17, February 21, March 21, and April 18.
KATE ELLIOTT's most recent novel is Unconquerable Sun, gender spun Alexander the Great in space. She is best known for her Crown of Stars epic fantasy series, the Afro-Celtic post-Roman alt-history fantasy (with lawyer dinosaurs) Cold Magic, and YA fantasy Court of Fives. Her particular focus is immersive world building and centering women in epic stories of adventure and  transformative cultural change. She lives in Hawaii, where she paddles outrigger canoes and spoils her schnauzer. You can find her online at kateelliott.substack.com and @KateElliottSFF on Twitter.
TADE THOMPSON is the multiple award-winning author of the Rosewater trilogy, the Murders of Molly Southbourne novellas, and Making Wolf.