Watch the 58th Nebula Awards Finalists Announcement on March 7!
We invite the global speculative fiction community to tune in for a livestream announcement of the 58th Annual Nebula Awards®  finalists on Tuesday, March 7, at 5:00pm Pacific Time!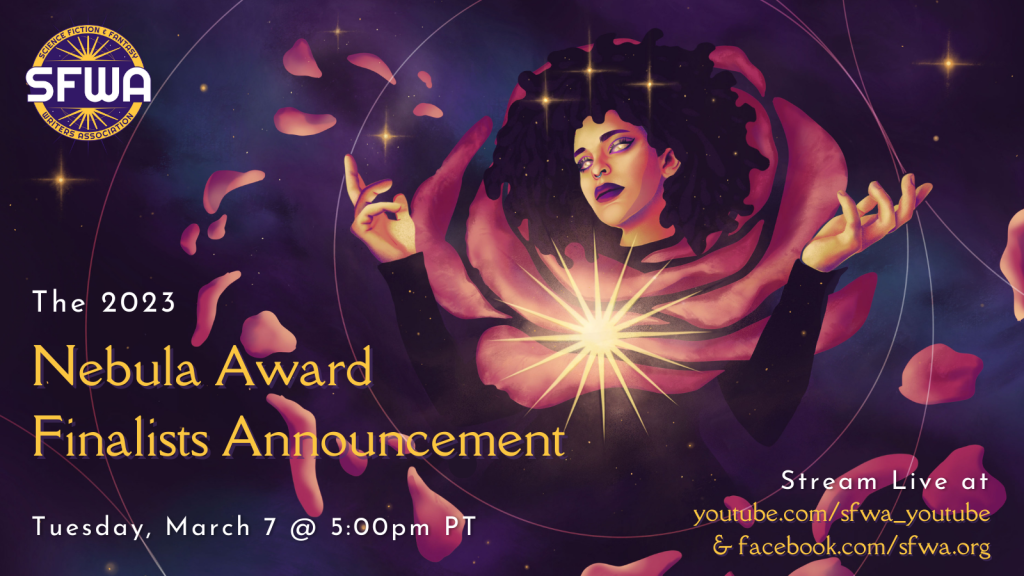 Facebook livestream: https://www.facebook.com/events/198142222865460
YouTube livestream: https://youtube.com/live/3nZqRdcKVeg?feature=share
We are thrilled that the finalists announcement will once again feature SAG-AFTRA performers sharing live readings from some of the nominated works. The finalists for all seven categories of Nebula Awards, for works published or released in 2022, will be revealed. The SAG-AFTRA narrators include James Patrick Cronin, Vikas Adam, Tova Ott, Wolf Williams, Stephanie Willings, and Emily Woo Zeller. 
Full, associate, and senior members of SFWA will soon vote for the works that they feel most represent excellence in the speculative fiction genres from among the finalists. Winners will be announced at the 58th Annual Nebula Awards ceremony, which will take place in Anaheim, CA, and online on Sunday, May 14. Please note that this is a date change from the previously announced May 13.
We are also seeking volunteer speakers, online or in-person, for the 2023 Nebula Conference, May 12–14, during which the Nebula Awards ceremony will take place. Individuals with a background in speculative fiction storytelling in prose, games, comics, or screenwriting are welcome to complete our volunteer survey to indicate their interest in speaking at a panel or workshop during the conference.
We look forward to celebrating our newest Nebula Award finalists this Tuesday!