The LGBTQ+ Speculative Experience
(Kind of like the Star Trek Experience—lots of diversity that some accept, some fight, and others never see)
by Elle Ire
Blog Series Mission
To boldly explore the experiences of a variety of LGBTQ+ speculative fiction writers with regard to how they first came to spec. fic., how that may or may not have affected their publishing paths, how their choices received them, and finally, where they landed with regard to professional writing organizations.
Disclaimer
The opinions/experiences explored in this blog series are a sampling by no means meant to encompass every LGBTQ+ SFF author's journey. Every writer's path takes a different set of turns. But perhaps it will give some insight into how we got here, the challenges we've faced, and the ones we're struggling to overcome.
Why me?
I'm a bisexual author of Sapphic speculative fiction. I have an amazing agent (Naomi Davis) and nine traditionally published novels with a small LGBTQ+ press.
Part of my marketing plan was to do presentations and workshops and get on as many panels as I could at as many conferences as possible. These have included both genre-specific cons and LGBTQ+-oriented cons.
As I traveled from con to con, I was surprised by how few LGBTQ+ spec. fic. authors were on panels at genre-based events. At the GCLS conference (for Sapphic fiction) and ReadOut (LGBTQ+ fiction), I was floored to find myself one of the only agent-represented authors in attendance. I'd read books by my fellow panelists writing Sapphic speculative fiction and found very high-quality work there. So why were so few represented? Was it their choice? Was it the system? Was it their perception of a system that had only recently begun to change? Had I been exceptionally lucky? Regardless, I wanted answers, so (per a suggestion from the blog committee at SFWA) I went straight to the sources and asked them, and I began with their beginnings.
Where Did You First Encounter LGBTQ+ Characters in Speculative Fiction?
Elle Ire – Most recent publication: Harsh Reality (2022)
I'll go first. (It's my post. I'm allowed.) I first encountered Sapphic speculative fiction in the Sarah Beauhall series (Tor) by J. A. Pitts. It featured a lesbian blacksmith with a lesbian witch/schoolteacher love interest, and I was hooked. I'd already been toying with making my characters lesbian and/or bisexual. Finding that book, published through a large, well-known press, sealed the deal for me. That was what I wanted to write. That was what I wanted to do with my career.
Scott Coatsworth – Rainbow Award winner — Most recent publication: The Dragon Eater (2023)
My first encounter with SFF by a queer author was through a book called The Dancers of Arun by Elizabeth A Lynn. It's a beautiful tale about a gay man with a deformed leg who believes no one will ever love him. It was originally published in 1980, and I read it later that decade. The scene where Kerris finally gets what he wants was like fire to a young gay kid like me—still in the closet but longing for what could be. And a few years later, I read Larque on the Wing (Avon Books) by Nancy Springer, a brilliant, beautiful story about bringing out the real identity inside of you (in which a housewife's inner him is a gay man). These stories set the standard for the kind of stories I wanted to tell.  
Nicola Griffith – author of Hild (winner of World Fantasy, Lambda, Nebula, and Tiptree)
I'm going to focus not on queer themes or writers but on characters—specifically, women—because that's what I paid attention to as a teenager and young adult. 
I don't remember the very first queer character I encountered in SFF—but I remember very clearly reading E.E. 'Doc' Smith's Lensman series when I was 13 or 14 and snorting at the notion that the women of Lyrane (a matriarchal planet) "could not know love" because they could not have recreational sex with men (whose sexual dimorphism had reduced them to tiny, combative things with the temperament of rabid bats). Even at that age, I knew there should be queer women in stories about the future or a past that never was. 
I remember also encountering vicious lesbians in an Edmund Cooper book (Who Needs Men?) not long after that and, again, snorting in disbelief.
Then in a tumbling rush, I found (I didn't 'stumble over' because I was actively searching) Zoë Fairbairns (Benefits), Joanna Russ, Vonda McIntyre (Meredeth in Dreamsnake—ungendered and so deeply exciting), Suzy Charnas, Elizabeth Lynn, Marion Zimmer Bradley, Sally Miller Gearhart (the Wanderground)—almost all American writers. And I was thrilled! 
Jose Pablo Iriarte – author of "Proof by Induction" (Nebula, Hugo, Locus, and Sturgeon Award finalist)
My first recollection of genuinely queer SFF lit that spoke to me is in short fiction, and it is shamefully recent–barely more than a decade old. Whether that reflects badly on me for failing to find what was out there or on the market for it not being prominent is left as an exercise for the reader. Some works that stick out as absolutely rocking my world with what was possible include "The Ghost Girls of Rumney Mill" by Sandra McDonald, which is my first recollection of seeing a trans girl in fiction, "57 Reasons for the Slate Quarry Suicides" by Sam J. Miller, which dealt with anger and the reaction to bullying, "Nothing Is Pixels Here" by K. M. Szpara, which explored a variety of experiences of gender and dysphoria and rebellion and assertiveness. I'll also throw in the young adult novel Ask the Passengers by A. S. King, because her work lives in that space between fabulism and realism and explores themes of identity and coming of age, and finding your own identity versus performing it in the way others expect.
Virginia Black – Debut Author of Consecrated Ground 
I encountered queer themes before I knew I was queer. John Varley's Gaea trilogy (TITAN/WIZARD/DEMON), a series I absorbed in its entirety over the course of six skip-class-and-avoid-chores days in high school, introduced me to the most iconic character I've ever read. Cirocco Jones was more down-for-whatever than self-identified lesbian, but that didn't stop her from being the soldering iron burning queer neural pathways through my teenage brain, the character who helped me figure things out.  Science fiction by a lesbian author didn't fall into my hands until I read Katherine V. Forrest's DAUGHTERS OF A CORAL DAWN, a novel that was part feminist treatise and part romance. 
These two stories opened my mind to possibilities in fiction, but neither achieved the balance of content I was searching for, which is what drove me to attempt the craft. 
Conclusions So Far?
Most of this group of writers encountered LGBTQ+ characters in books published through major publishers, yet many did not pursue/end up with major publishers themselves. In the next installment, we'll take a look at these writers' chosen paths and why they chose them.
---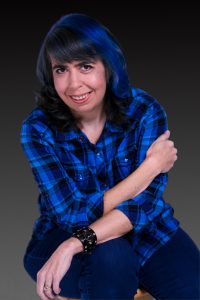 Elle Ire writes science fiction and paranormal romance featuring kickass women who fall in love with each other. She is the author of nine novels published through a small LGBTQ+ press, including multi-Royal Palm Literary Award winner THREADBARE and the Goldie Award winner and first runner-up for Florida Writers Association's book of the year DEAD WOMAN'S POND. Elle is represented by Naomi Davis at BookEnds Literary Agency. Find Elle on Twitter at https://twitter.com/ElleEIre and her books at https://www.amazon.com/stores/author/B07XYJZQ3B/allbooks and most other online book retailers.