Posts Tagged 'Flewelling'
Lynn Flewelling writes on the basics of query letters.
Featured Book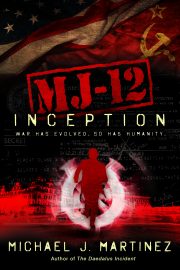 From the ashes of World War II, a new breed of humanity has arisen. The secret MAJESTIC-12 program hopes to use these new super-humans in the Cold War…but can they truly be controlled? A new spy-fi thriller from the author of the DAEDALUS trilogy.
Featured Member
Adam Christopher
Adam Christopher is the Sir Julius Vogel Award-winning author of Empire State (SciFiNow magazine Book of the Year 2012 and a Financial Times Book of the Year 2012), Seven Wonders, The Age Atomic, Hang Wire, and The Burning Dark.