Posts Tagged 'Justin Howe'
Member news for Erin Cashier, Justin Howe and Jennifer Brozek!
Featured Book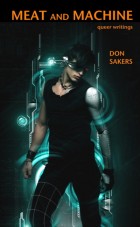 Don Sakers has been queering science fiction and fantasy for three decades. Meat and Machine collects 24 short pieces of science fiction, fantasy, nonfiction, and erotica from across his career.
Featured Member
Larry Hodges
Larry Hodges is an active member of SFWA with 60+ story sales. His first novel "Sorcerers in Space" came out in 2013 from Class Act Books. He's an Odyssey Writers Workshop graduate and full-time writer with seven books and 1400+ published articles.