Posts Tagged 'KJ Kabza'
Member News for Kelly Swails, KJ Kabza, and Keffy R. M. Kehrli.
Featured Book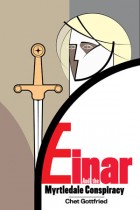 Sixteen-year-old Einar goes to Myrtledale and into a whirlwind of tournaments, assassins, and Barbara Bloodbath's plan for a new ice cream parlor. The tournaments and bake-off contest may end in civil war before any winners are declared.
Featured Member
Jeffe Kennedy
Jeffe Kennedy is an award-winning author and scientist. Her works include non-fiction, poetry, short fiction, and novels. She lives in Santa Fe, NM, with two Maine coon cats, plentiful free-range lizards and a handsome Doctor of Oriental Medicine.