Posts Tagged 'KJ Kabza'
Member News for Kelly Swails, KJ Kabza, and Keffy R. M. Kehrli.
Featured Book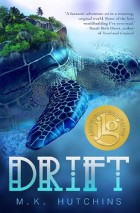 Living on the shores of hell has never been easy. "Readers will find watching Hutchins' unusual magical rules bring about startling consequences for family and political structure utterly fascinating. Totally fresh." -Kirkus
Featured Member
Tracy S. Morris
When Tracy S. Morris was four years old, she wrote her first "novel" in crayon on the back of a newspaper and gave it to the postman along with an antique silver dollar so that someone could turn it into a novel. She is still waiting to hear back.