Posts Tagged 'KJ Kabza'
Member News for Kelly Swails, KJ Kabza, and Keffy R. M. Kehrli.
Featured Book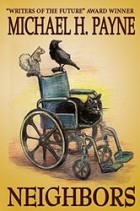 Gus Lancer's peculiar neurological condition has paralyzed him from the waist down and strangled his speech, but he's recently discovered that he can apparently communicate with animals.  This leads him into more adventures than he expects.
Featured Member
Vylar Kaftan
Vylar Kaftan has published about 40 short stories in places such as Asimov's, Clarkesworld, and Lightspeed. She was nominated for a Nebula in 2011. She's the founder of FOGcon, a new sf/f literary convention in the San Francisco Bay Area.