Posts Tagged 'KJ Kabza'
Member News for Kelly Swails, KJ Kabza, and Keffy R. M. Kehrli.
Featured Book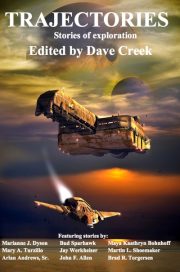 Original stories of space exploration and adventure from Bud Sparhawk, Marianne J. Dyson, Maya Kaathryn Bohnhoff, Mary A. Turzillo, Jay Werkheiser, Arlan Andrews, Martin L. Shoemaker, John F. Allen, and Brad R. Torgersen.
Featured Member
Lee Gimenez
Lee Gimenez is the author of eight novels and over fifty short stories. Several of his books became bestsellers, including BLACKSNOW ZERO, and THE NANOTECH MURDERS. His latest thriller, THE WASHINGTON ULTIMATUM, was published in 2013.