Posts Tagged 'Peter Straub'
Industry News and Member News for Cat Sparks, Alethea Kontis, and Allan Cole.
Featured Book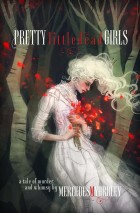 Bryony Adams is destined to be murdered, but fortunately Fate has terrible marksmanship. Mercedes M. Yardley's Pretty Little Dead Girls: A Novel of Murder and Whimsy is a dark, lovely fairy tale with lyrical language and a high body count.
Featured Member
Charles E. Gannon
Chuck Gannon's novels include National&Wall Street Journal Bestsellers, with shorter works appearing in magazines/anthologies. A Distinguished Prof. of English and 3-time Fulbrighter, his "Rumors of War and Infernal Machines" won the ALA Choice Award