Quick Updates for 2010-11-01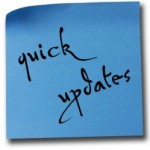 Member News
Congratulations to SFWA member Cat Sparks who has been named fiction editor for Cosmos Magazine.
SFWA member Alethea Kontis's children's book ALPHAOOPS is featured in USA TODAY.
SFWA member Allan Cole presents CHUCK KISSES THE RING – New Hollywood Misadventure at his site.
Industry News
World Fantasy Award Results:
Special Award Non-Professional – Susan Marie Groppi.
Special Award Professional – Jonathan Strahan.
Best Artist Award – Charles Vess.
Best Collection Award – a tie between THERE ONCE LIVED A WOMAN WHO TRIED TO KILL HER NEIGHBOR'S BABY by Ludmilla Petrushevskaya and THE VERY BEST OF GENE WOLFE by Gene Wolfe.
Best Anthology Award – AMERICAN FANTASTIC TALES edited by Peter Straub.
Best Short Story Award – "The Pelican Bar" by Karen Joy Fowler.
Best Novella Award – "Sea-hearts" by Margo Lanagan.
Best Novel Award – THE CITY AND THE CITY by China Miéville.