Milford SF Writer's Conference Opens for Registation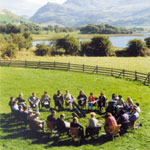 The UK Milford Writers' Conference has extended the following invitation:
You are cordially invited to join the Milford SF Writer's Conference, held at the Trigonos Centre in Snowdonia (Saturday 17th September to Saturday morning 24th September 2011).
Entry requirement: You need to have had a story or novel professionally published. Self-publication does not count.
Milford is a gathering of professional authors, loosely linked by science fiction or fantasy writing. It is not a school for beginners, and there are no 'teachers' or 'students.' However, neither is it an elitist in-group: we welcome new participants, and invitations are extended to authors who have only sold the minimum requirement of 1 published piece as well as those among us who only dimly recall what rejection slips look like (HAH! – ed). Writers who have not attended a previous Milford are particularly welcome.

The conference has been a regular, more or less annual event since 1972, drawing members from Britain, Europe, America and Australia. Over the years it has settled down to a comfortable workable format: demanding and exhausting, with much hard work being done, but it's also convivial, with a lot of sitting in the bar and talking about doing hard work. It's thus a social as well as a literary event.
Here's a brief generalised programme of the week:
Saturday: turn up late afternoon, bringing manuscripts for discussion during the week. There's no programme, but around mid-evening we convene and get to know one another over a meal.
Sunday to Thursday: the main working days. Morning is the time to read manuscripts and prepare notes. Afternoons are workshop sessions, at which the day's quota of material is discussed as forthrightly and constructively as possible, with fairly strict time limits to encourage brevity and allow even the shyest member's voice to be heard. Evenings are for more relaxed conversation and discussion, sometimes punctuated by occasional silly literary games.
Friday: depending on the workload, this can be the time for a further workshop, a semi-formal discussion, exploring the vicinity of the centre, or just resting. In the evening we unwind with a special dinner.
The Centre: Trigonos is situated on the shores of Lake Nantlle in Snowdonia, among the mountains of the Snowdonia National Park. It is about 10 miles from Caernarvon, which is accessible from Bangor railway station by a frequent bus service. Full travel details will be sent to participants. The centre is comprised of an old Victorian house and converted barns, and has a committed approach to sustainable land development and environmental restoration.
It is full board (breakfast, lunch, dinner and snacks) and caters to both vegetarians and non-vegetarians, and can cater for vegan guests also. The centre grows much of its own organic produce.
Costs: for the whole week, you will pay a total £510 (a non-returnable deposit of £115 and a balance of £395 upon attendance).
This fee covers:
accommodation
full board (breakfast/lunch/dinner plus tea/coffee breaks)
meeting room hire
Milford's conference admin fee of £10
A typical Milford has anything from 10 – 15 participants, and works best with a full timetable and minimal slack – this year there will be a ceiling of 15 members on a 'first come, first served' basis, plus a waiting list which you can join by paying the registration fee and room deposit. The treasurer will hold this until the booking is either confirmed or cancelled.
To book, please complete the application form.