SFWA Names Connie Willis Recipient of the 2011 Damon Knight Memorial Grand Master Award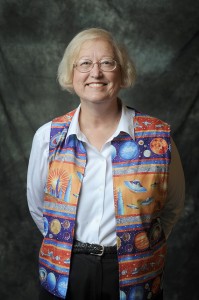 SFWA is proud to announce author Connie Willis as the 2011 recipient of the Damon Knight Memorial Grand Master Award for her contributions to the literature of Science Fiction and Fantasy.
"The first time I met Connie Willis in person was at the 2003 WorldCon in Toronto. In the middle of a party, she was holding an entire room of writers and fans rapt with an extraordinarily funny story she was reeling out off the top of her head. This is the essence of Connie — her wit, her skill, her storytelling and herself, all combined to hold readers and writers spellbound. There are few writers in the history of science fiction and fantasy as awarded as she is, and none more beloved by readers and peers. It's a genuine delight to officially grant her the title she has clearly already earned: Grand Master."  John Scalzi, president of Science Fiction and Fantasy Writers of America

Being named a Nebula Grand Master is an unimaginable honor–quite literally. When I began writing science fiction as a teenager, my biggest goal was to actually sell a story. My greatest castles-in-the-air fantasy was to someday win a Nebula Award. If you'd told that teenaged girl that she'd someday end up a Nebula Grand Master, with her named linked to those of the authors she worshiped, demigods like Jack Williamson, Ray Bradbury, Joe Haldeman, and Robert A. Heinlein, she'd NEVER have believed it. I'm not sure I believe it. But I'm very, very grateful. And I'm even more grateful that I've been able to spend my entire life among the work and the people I fell in love with when I was thirteen.  —Connie Willis
The author of fifteen novels and over fifty short stories and novellas, Ms. Willis's first novel, Water Witch, co-written with Cynthia Felice, was released in 1982. In 1992, Bantam Spectra released Willis's Doomsday Book, which went on to win the Hugo, the Nebula and the Locus Awards for Best Novel. As of 2012, Ms. Willis has seven Nebula Awards, eleven Hugo Awards and four Locus Awards, among many others.
Ms. Willis is known to fans and colleagues for her generosity and humor, and her stories and anecdotes are frequently quoted long after their debut. She exemplifies the best this genre has to offer, and we are proud to welcome her to the rank of Grand Master.
"When I heard that Connie was going to be named a Grand Master, I was surprised, because I assumed she'd long since been given the honor. It's overdue and well deserved – congratulations, Connie, and welcome to the club." —Joe Haldeman, 2010 Grand Master

"My most treasured childhood possession is Terry Carr's 1984 Year's Best Science Fiction anthology, not least because it contains Connie Willis's "Blued Moon". Her writing changed my understanding of what SF is and what it can be: funny, poignant, wise, feminist. And then I read "All My Darling Daughters" and my concept of SF expanded again, in entirely different directions. Thirty years on, I'm still floored by those stories; Willis's work bears up startlingly well under rereading. It doesn't rely on shock or in-jokes or other stale devices. It's just plain smart, and built on the backs of instantly recognizable characters. I'm thrilled that SFWA is honoring such a fine writer and beloved member of the SF community." —Rose Fox, Publisher's Weekly

I met Connie Willis thirty years ago and have been an eyewitness to her dramatic rise from promising young writer to award-winning professional to a figure of historic importance to science fiction. Although she is well loved for her humor — and deservedly so – it is her stories of desperate people in crisis, of good people confronting evil and of ordinary people finding their nobility that form the foundation of her amazing career. She stands at the very center of our genre and is without question one of the best writers of my or any other generation. —James Patrick Kelly, 2-time Hugo Award winner

Connie Willis can make you care about: the superiority of Some Christmas Movies over Others, quantum love, and the rate at which goose fat will collect in a pan. She will give a voice to the dominant ewe, drama to a holiday newsletter, and more meaning to the Titanic's sinking than DiCaprio ever did. To find another storyteller that even comes close to her voice is nigh-impossible. Mur Lafferty, Escape Pod editor and Angry Robot Books Podcast host
The Damon Knight Memorial Grand Master Award is given by SFWA for 'lifetime achievement in science fiction and/or fantasy.' Connie Willis joins the Grand Master ranks alongside such legends as Michael Moorcock, Anne McCaffrey, Ursula K. LeGuin, Isaac Asimov, Ray Bradbury and Joe Haldeman. The award will be presented at the 47th Annual Nebula Awards Weekend in Arlington, Virginia, May 17-20, 2012.
The Nebula Awards Weekend is an annual event, open to the public, and holds workshops, excursions and programming aimed at education and information.
More information on the award's history and the Nebula Award Weekend can be found at:http://www.sfwa.org/nebula-awards/nebula-weekend/