Ellen Klages: Toastmaster for Nebula Awards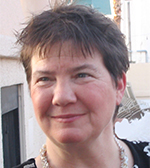 Author Ellen Klages will be the Toastmaster for the 49th Annual Nebula Awards ceremony, May 15-18th, 2014, at the Marriott in San Jose, CA.
Klages short fiction has won the Nebula Award and has been nominated for the Hugo, World Fantasy, Locus, and Campbell awards. Her novel The Green Glass Sea won the O'Dell Award for historical fiction. She has also been an auctioneer and fundraiser for Clarion West and the James Tiptree Award.
Internationally known as an entertainer of great wit and comedic timing, she has a degree in Philosophy;  is a graduate of the Clarion South writer's program and the Second City Improv Conservatory; and lives in San Francisco, where she has a small house full of strange and wondrous things.
Klages will be joined at the event by Damon Knight Grand Master: Samuel R. Delany,  Special Guest: Frank M. Robinson, and the Nebula Award nominees.
About the Nebula Awards Weekend
The 49th Annual Nebula Awards Weekend will be held May 15-18th, 2014, in San Jose at the San Jose Marriott. The Awards Ceremony will be hosted by Toastmaster Ellen Klages. Attending memberships, and more information about the Nebula Awards Weekend, are available at http://www.sfwa.org/nebula-awards/nebula-weekend/.  The Weekend is open to non-SFWA members.
About SFWA
Founded in 1965 by the late Damon Knight, Science Fiction and Fantasy Writers of America brings together the most successful and daring writers of speculative fiction throughout the world.
Since its inception, SFWA has grown in numbers and influence until it is now widely recognized as one of the most effective non-profit writers' organizations in existence, boasting a membership of approximately 2,000 science fiction and fantasy writers as well as artists, editors and allied professionals.  Each year the organization presents the prestigious Nebula Awards® for the year's best literary and dramatic works of speculative fiction.
Media: For information on obtaining press passes, interviews with nominees, or questions about the event itself, please contact SFWA's Communications Manager, Jaym Gates, at communications@sfwa.org.