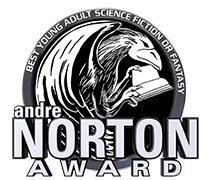 The 2015 Norton jury has convened and is considering eligible books.
The Norton Award is given annually by SFWA to young adult and middle grade speculative literature. Previous winners include Holly Black's Valiant: A Modern Tale of Faerie, Cathrynne M. Valente's The Girl Who Circumnavigated Fairyland in a Ship of Her Own Making, and Delia Sherman's The Freedom Maze.
While the jury will independently seek out books with these themes, we appreciate recommendations and submissions for review. If you have a book you wish to recommend, or a book you would like to submit for jury review, please contact Jaym Gates at
pr@sfwa.org
.