Massive Sci-Fi SFWA Space Bundle Launches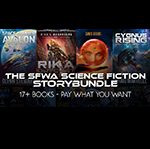 For a limited time, the largest storybundle SFWA has ever curated is now available.
Bestselling and debut authors have created worlds where invasions are apocalyptic and space empires are in peril. The universe is beyond our understanding…and sometimes, what we don't know can kill us.
Aliens, warships, royalty, intrigue, and battle, sometimes fought only within one's mind, other times with railguns, plasma beams, and blasters. Never a dull a moment as you choose from twenty full-length books. When we discover we're not alone in the universe, will you be prepared?
Head to Storybundle.com  where up to twenty books by eighteen authors can be yours for a price you name! The bundle features New York Times Bestselling authors Michael Cooper, Mike Shepard, and Felix R. Savage, USA Today Bestselling Author Kevin McLaughlin, International Bestselling Authors Glynn Stewart, Craig Martelle, Jennifer Foehner Wells, Terry Mixon, Amy DuBoff, and much more!
Why StoryBundle? Here are just a few benefits StoryBundle provides:
Get quality reads: SFWA has chosen works from excellent authors to bundle together in one convenient package.
"Pay what you want" (minimum $5): You decide how much these fantastic books are worth. If you can only spare a little, that's fine! You'll still get access to a batch of exceptional titles.
Support authors who support DRM-free books: StoryBundle is a platform for authors to get exposure for their works, both for the titles featured in the bundle and for the rest of their catalog. Supporting authors who let you read their books on any device you want—restriction free—will show everyone there's nothing wrong with ditching DRM.
Give to worthy causes: Bundle buyers have a chance to donate a portion of their proceeds to the Science Fiction and Fantasy Writers of America!
Receive extra books: If you beat the bonus price, you'll get the bonus books!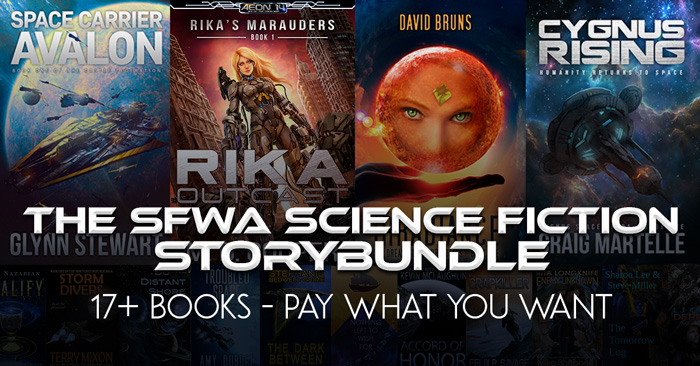 The initial titles in the The Sci-Fi SFWA Space Bundle (minimum $5 to purchase) are:
Cygnus Rising by Craig Martelle
Some Distant Shore by Dave Creek
Rita Longknife – Enemy Unknown by Mike Shepherd
Crapkiller by Felix R. Savage
Ithaka Rising by LJ Cohen
Compete – The Atlantis Grail Book 2 by Vera Nazarian
If you pay at least the bonus price of just $15, you get all six of the regular titles, plus ELEVEN more!
Nothing Left to Wish For by Andrew G. Schneider
Troubled Space by Amy DuBoff
The Dream Guild Chronicles Boxed Set (Books 1-3) by David Bruns
A Rose From Old Terra by Don Sakers
Fluency by Jennifer Foehner Wells
Accord of Honor by Kevin McLaughlin
Rika Outcast by M. D. Cooper
Space Carrier Avalon by Glynn Stewart
The Dark Between by Stephanie Bedwell-Grime
Storm Divers by Terry Mixon
The Tomorrow Log by Sharon Lee and Steve Miller
Talented authors. Remarkable stories. One incredible science fiction collection. Don't miss out.
•••
Founded in 1965, SFWA informs, supports, promotes, defends, and advocates for its members. It hosts the prestigious Nebula Awards at an annual conference, assists members in legal disputes with publishers, offers the Speakers Bureau, administers grants to SFF community organizations and members facing medical or legal expenses.
Novice authors benefit from an Information Center and the Writer Beware website.  Between online discussion boards, private convention suites, and a host of less formal gatherings, SFWA is a source of information, education, support, and fellowship for its members.
SFWA Membership is open to authors, artists, editors, and other industry professionals who meet our eligibility requirements.
For more information, review requests, or interviews, please email Daniel Potter, the SFWA Self-Publishing Committee chair at danpotter@fallenkitten.com