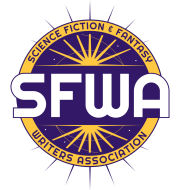 The SFWA minimum payment rate for professional short fiction markets is now eight cents  per word.
In accordance with our mission to support and empower science fiction and fantasy writers, SFWA periodically reviews and adjusts the minimum payment rate for professional short fiction markets (known colloquially as the SFWA pro rate). On January 16, 2019, we announced that the minimum payment rate for short fiction would be raised to eight cents per word on September 1, 2019, based on US dollar amounts. This rate now in effect.
Writers applying for SFWA membership qualify on the basis of the per-word rate on the date of contract. For example, short fiction sold before September 1, 2019 at six cents per word continue to qualify a writer for SFWA membership, etc.
This change to the SFWA pro rate is the result of market analyses conducted by SFWA Board members, along with a review of the effects of inflation on author compensation. The SFWA pro rate was last changed in 2014, rising from five to six cents per word, and from three to five cents per word in 2004.
SFWA supports fair compensation for writers. Questions and comments can be directed to kelly.robson@sfwa.org.