The LGBTQ+ Speculative Experience: Part 2
(Kind of like the Star Trek Experience—lots of diversity that some accept, some fight, and others never see)
by Elle Ire
Continuing Mission
Our exploration of the experiences of various members within the LGBTQ+ spec fic community continues in this blog post. Please see Part 1 for an introduction to the series, disclaimers, and why I began this quest. In Part 2, we'll look at the publishing choices my interviewees made once they were bitten by the writing bug and examine whether there was a connection between their initial exposure to spec fic and the publishing paths they took.
Which Publishing Path Did You Choose and Why?
Elle Ire 
Most Recent Publication: Harsh Reality (2022)
I always knew I wanted to go the traditional route. All my favorite authors were with the major New York publishers. They were like rock stars, and I wanted that experience for myself. I worked hard to get an agent and dealt with a lot of rejection. I didn't consider self-publishing, because when I started, it hadn't yet exploded into the huge publishing path that it is now and wasn't really on my radar. I also lacked the skills to do everything myself and the financial resources to hire professionals to do it for me. I knew the major presses weren't publishing much queer content, but I went for it anyway and had a few close calls. Small presses were almost entirely unfamiliar to me. However, it was a traditional, small, LGBTQ+ press that eventually embraced my work. To get there, I had to overcome a LOT of barriers, which will be discussed more in Part 3 of this series.
Scott Coatsworth—Rainbow Award Winner
Most Recent Publication: The Dragon Eater (2023)
I started out submitting to an MM (male–male) romance publisher because my husband Mark knew of them and they had some open calls. Within a short time I had two sales, and ended up selling two series to one of those original publishers. But my heart was never in romance—I always wanted to write more "mainstream" sci-fi and fantasy (SFF). In my twenties, I'd written a science fiction novel that was rejected by ten presses; I set out to try again with a new book, this time going the agent query route. In the meantime, I got back the rights to my other novels and reissued them under my own press name, Other Worlds Ink. The novel didn't find a home, and I ended up publishing it, too, myself. After repeating the agent process unsuccessfully, I sold the latest series to a new small press, hoping to leverage their reach. So I am currently a hybrid author, and I will try the agent thing again, one more time, with my next book.
Nicola Griffith
(Winner of World Fantasy, Lambda, Nebula, and Tiptree Awards)
I started thinking about writing my own science fiction when I was 19. It took a while to get around to it, but from about age 19 to 24, I was reading a lot of literary fiction from UK feminist presses such as Virago and the Women's Press and at least as much SFF from trade presses such as Gollancz, Pan Macmillan, and others. So when I wrote my first novel in 1984, I sent it to Malcolm Edwards at Gollancz and to Jen Green at the Women's Press. Both said the same thing: fix the manuscript, and we'll consider publishing it. (For Gollancz, that meant "cut a third"; for Women's Press, it meant "put in more sex.") In light of their comments, I started eyeing the manuscript critically for the first time and was so appalled at its shortcomings that I stuck it in a drawer and decided to write short stories to teach myself how to write. (Pro tip: Don't do this! If an editor says, "Fix this and resend," do that!) But my path was set: I assumed I'd be published by a respected mainstream trade press.
Jose Pablo Iriarte
Author of "Proof by Induction" (Nebula, Hugo, Locus, and Sturgeon Award finalist)
I followed the only path I saw. I'm a little bit older than most of the authors I know who are at a point similar to mine in their careers. When I was growing up, I was aware of the books in the library and Waldenbooks, and I was aware of Asimov's and F&SF and Analog. Everybody I respected said in the strongest terms that you should hold out for professionally paying, recognized markets, and so I did, through twenty-eight years of nothing but rejection. It's a good thing I'm not bitter!

More seriously, I'm marginalized along multiple axes, like a lot of folks, but I have the dubious privilege of being able to pass as un-marginalized on all of them. And before I was writing and reading stories of queer characters, I found my dysphoria responded well to reading and writing about cisgender female characters, which was something the traditional publishing pipeline was more open to.
Virginia Black
Debut Author of Consecrated Ground
I started with fan fiction, progressed to short stories in sapphic fiction anthologies, and finally published my first novel, Consecrated Ground, with Bywater Books in February 2023. At first, traditional presses didn't hold much appeal for me—I wanted to tell my stories my way without being constrained by a publisher, which I feared would mean cutting down on the queer content. 
A number of factors led me to a smaller press, but I was allowed to tell my story to my own satisfaction, without the pressure of current trends. I never once considered getting an agent (mostly due to my own lack of understanding of how that relationship might work), and though I didn't rule out the possibility of submitting to a larger publisher, I also didn't see those publishers releasing books like mine at the time.  
Continued Conclusions?
A variety of factors played into which publishing path these authors chose. For most, their initial exposure did influence their choices: most of these authors who read traditionally published books chose the traditional path, aiming first at the Big Five. For some, though, it was more about timing—an open call, for example. And for still others, there was some lack of information or misinformation involved: not knowing about the existence of certain presses or why one might want an agent to represent their work. Finally, several expressed the feeling that certain paths were closed to them or queer content discouraged along those paths.
In the next installment, we'll take a look at some of those closed and discouraging pathways and the obstacles these authors had to overcome.
---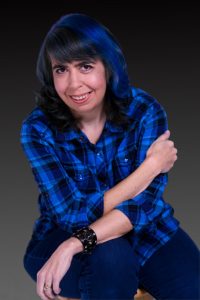 Goldie Award winner Elle Ire writes science fiction and paranormal romance featuring kickass women who fall in love with each other. Her published work includes Vicious Circle, the STORM FRONTS trilogy, Reel To Real Love, the NEARLY DEPARTED trilogy, and Harsh Reality. Elle is represented by Naomi Davis at BookEnds Literary Agency.