Quick Updates for 2010-12-03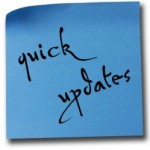 Member News
The 2 week Taos Toolbox Master Class taught by SFWA members Walter Jon Williams and Nancy Kress is accepting applications.
SFWA members who have been nominated for a 2010 Goodreads Choice Award include: Cherie Priest, Charlie Stross, Connie Willis, Seanan McGuire, Lois McMaster Bujold, Ann Aguirre, Sharon Lee, Steve Miller, N. K. Jemisin, Brandon Sanderson, Elizabeth Moon, Nnedi Okorafor, Anne Bishop, Peter V. Brett, and Jacqueline Carey.
"2020 VISIONS" edited by SFWA member RickNovy is now available on Amazon.
The Spanish fan translation of SFWA member Cory Doctorow's novel LITTLE BROTHER is now available as an ePub.
SFWA member Jonathan Strahan issues a call for stories for THE BEST SCIENCE FICTION AND FANTASY OF THE YEAR: Vol 6.
SFWA member Yasmine Galenorn has an ARC contest for BLOOD WYNE and a charity drive contest.
Congratulations to SFWA member Leanna Renee Hieber on her first foreign rights sale. STRANGELY BEAUTIFUL books 1 and 2 will be out in Poland in 2011.