The LGBTQ+ Speculative Experience: Part 3
(Kind of like the Star Trek Experience—lots of diversity that some accept, some fight, and others never see)
by
Elle Ire
Continuing Mission
Our exploration of the experiences of various members within the LGBTQ+ spec fic community continues in Part 3 of this series (Part 1, Part 2). This part examines the successes and obstacles of authors who followed the traditional publishing route, with some obtaining agent representation and others selling directly to a traditional press.
What was your experience like if you DID seek agent representation and/or publication from mid-size to major traditional publishers? Were you successful in obtaining an agent? Did you sell to a larger traditional press? 
Elle Ire
Most Recent Publication: Harsh Reality (2022)
I was fortunate that I began hunting for a literary agent for my Sapphic spec fic right around the time that diversity and inclusion were becoming a focus in traditional publishing. I'd already had representation for my non-Sapphic work, but that agent left the profession. Having been "vetted," so to speak, made it easier the second time around.
I pitched a Sapphic sci-fi romance and had seven offers of representation. But the agent I signed with couldn't sell it to any of the Big Five publishers or any of the mid-sized presses, despite their calls for diversity. We submitted to smaller presses that only publish LGBTQ+ work, but they weren't interested in speculative fiction, even with lesbian and bisexual characters. When she didn't sell my second or third Sapphic spec fic, I switched agents again.
This agent tried to sell my non-Sapphic work, but when I pitched a Sapphic piece, she said she "didn't have the contacts for that" and we parted ways.
My fourth and current agent submitted my Sapphic spec fic to everyone. Times had changed, and we came close at two of the Big Five, but in the end, I sold the book to a traditional LGBTQ+  small press. They bought eight more from me. 
Agents seemed far more interested in "own voices" work and diverse characters/authors than the publishers did on the whole, at least at that time. I will also note that two of the agents I've worked with are members of the LGBTQ+ community themselves.
Scott Coatsworth—Rainbow Award Winner
Most Recent Publication: The Dragon Eater (2023)
Ah, this one goes right to the heart of it for me. In many ways, I feel like I missed my wave. Back in the nineties, when I first tried the majors, I wasn't yet writing LGBTQ fiction. Between then and 2019, when I tried the agent route, there might have been a brief time when gay writers were a hot thing, but by then the market seemed to have moved on. It becomes infatuated with niches periodically, but never fully welcomes us in, fearing that we will change the conversation, maybe? I did more than 150 agent submissions for one book and 200 for the other, and got three requests for more info and two requests for full manuscripts. It's not a gatekeeper system. It's a stone wall.
Nicola Griffith—Author of Hild 
Winner of World Fantasy, Lambda, Nebula, and Tiptree Awards
Once I'd taught myself to write, I sold a short story to Interzone and applied for and was accepted to Clarion. I sold another handful of stories and then Malcolm Edwards wrote and asked me to send him a novel. So I wrote one (Ammonite) and sent it, and he bought it for HarperCollins/Grafton UK. I asked Vonda McIntyre who her agent was, and that agent agreed to represent me. She then placed the book with St. Martin's and Avon for a hard/soft deal in the US—but when they wanted a 20% cut in word count, I pulled the book and sold it instead to Ballantine/Del Rey. The whole thing was smooth and easy. By which I mean writing and the path to publication is never, ever smooth and easy, but that I encountered no barriers because I was a woman or queer—or even because I'd written a whole long novel without a single man in it. (Mind you, at least one of my Clarion teachers told me I would have to put men in it if I wanted to sell it.)
Critical reception of Ammonite was great. But the next (Slow River) had a more complicated journey. First of all, my agent told me she couldn't sell the novel; it wasn't a selling outline. "It's the near future, with men in it. Why does your protagonist have to have a girlfriend?" I said, "Because she's a dyke," and fired her. Critical reception of a more real-world novel with a lesbian protagonist was much (much!) rougher. The book won awards, but I'd been thoroughly typecast as a lowly subgenre writer, someone "who only wrote about lesbians." :: eye roll ::
It was at that point I turned from SF to writing crime fiction and to creating and editing the Bending the Landscape anthology series in which I asked straight genre writers and queer literary writers to try to write SFFH from a queer perspective.
Jose Pablo Iriarte—Author of "Proof by Induction"
Nebula, Hugo, Locus, and Sturgeon Award Finalist
I was offered agent representation on the second novel I queried after something like 75 rejections, which is probably a fairly unexceptional experience. It took eleven more years and four projects before we actually sold a book, which does feel more uncommon.
I think here is where I need to bring up intersectionality a bit more vigorously, because I haven't really shopped a queer book, but I have shopped books about cisgender female protagonists. I did have one bad experience in a conference critique session with an editor who either did not perceive my gender (nonbinary) or did not believe it was legitimate, and who seemed to find it questionable that somebody who presents like me should write about a teen girl. That experience has soured me on writing Young Adult at all, and has made me want to stick either to grown-up spec fic or to middle grade, both of which I have found more welcoming to me.
Continued Conclusions?
From these responses, it appears that LGBTQ+ spec fic authors face additional obstacles beyond those that every writer on the road to publication must navigate. Whether at the agent level, the publisher level, or the critics' response level, it feels like there is often a lack of understanding and inclusion, both of the writer and the work.
In our final installment, we'll take a look at these writers' thoughts on and experiences with joining professional writer organizations and entering writing competitions.
---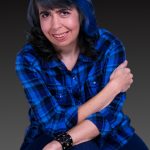 When she isn't cave swimming with bats, taking shooting lessons, ziplining down a mountain, or paying to be kidnapped, Elle Ire writes science fiction and paranormal romance featuring kickass women who fall in love with each other. Elle's work has won two Goldie awards from the Golden Crown Literary Society for her Nearly Departed series, as well as the first book in the series, Dead Woman's Pond, being selected as the first runner-up for the Florida Writers Association's Book of the Year (2022). Elle is represented by Naomi Davis at BookEnds Literary Agency.