OVERVIEW AND SITE MAP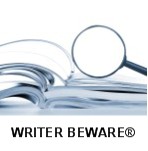 There are sharks in the literary waters. Deceptions abound, from fee-charging literary agents, to dishonest freelance editors, to fraudulent vanity publishers, to fake contests. Add to that the complications of copyright and the opportunism of the Internet, including the growing number of useless writers' "services" and the hordes of well-intentioned but amateur agents and publishers, and you have a veritable minefield of literary pitfalls just waiting for the unwary writer, whether a beginner or a seasoned pro.
The good news: if you know the warning signs, it's really very easy to protect yourself. At the Writer Beware website, you'll find a full toolkit to help you: detailed discussions of questionable practice, information on how to identify it, advice on how to avoid it, and links to many useful online resources.
Here's a summary (in alphabetical order) of what you'll find on Writer Beware.
Except for graphics, and where specifically indicated, all Writer Beware® contents copyright © 1998-2011 Victoria Strauss
MAY NOT BE REPRODUCED WITHOUT PERMISSION